Brooklyn Blackout Cake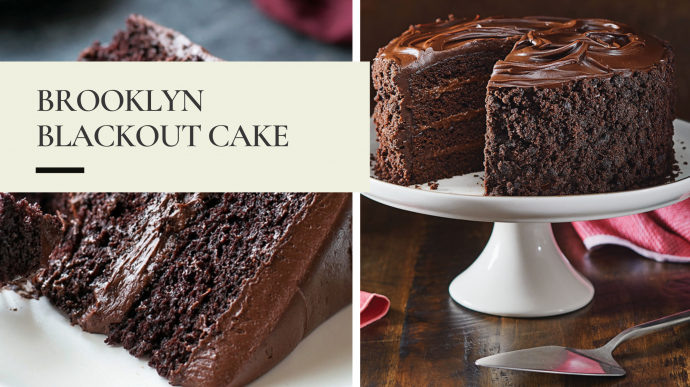 Welcome to the dark side! Blackout cake originated in Brooklyn, at Ebinger's Bakery, and gets its name from the blackout drills performed during World War II. The whole city would dim its lights as ships sailed to war so that the enemy could not spot them. Just like the original version, this cake is filled and frosted with chocolate pudding and coated in cake crumbs. This cake is loaded with chocolate flavor without being overly sweet, so you can down a hefty slice pretty quickly, even though a slim slice is sure to satisfy.
Ingredients
For the Pudding
1⁄4 cup cornstarch or arrowroot
1⁄4 cup soy, almond, or rice milk
1 (13.5-ounce) can coconut milk
1⁄2 cup sugar
1⁄8 teaspoon salt
1 cup semisweet chocolate chips
For the cake
3 cups all-purpose flour*
2 cups sugar
2⁄3 cup unsweetened cocoa powder
2 teaspoons baking soda
1 teaspoon salt
2 cups cold coffee or water
1 cup canola oil
1⁄4 cup white or apple-cider vinegar
1 tablespoon pure vanilla extract
Directions
Step 1. To make the pudding: In a small bowl, thoroughly whisk cornstarch and nondairy milk until smooth and set aside.
In a medium saucepan, whisk coconut milk, sugar, and salt, and cook over medium-high heat until just boiling. Reduce heat to low, and stir in chocolate chips. Let cook, whisking frequently, until completely smooth. Increase heat to medium and slowly drizzle the cornstarch mixture into the saucepan, whisking continuously. Let cook until the mixture becomes very thick, like pudding, about 5 minutes, whisking frequently. Remove from heat and transfer to a bowl. Cover with plastic wrap, pressing the surface of the pudding with the plastic wrap to prevent a skin from forming. Let cool slightly, then chill in the refrigerator until cool to the touch, about 3 hours.
Step 2. To make the cake: Preheat the oven to 350 degrees. Lightly grease two 9-inch round cake pans and line the bottoms with parchment paper.
In a large bowl, whisk together flour, sugar, cocoa, baking soda, and salt. In a separate bowl, whisk together coffee or water, oil, vinegar, and vanilla. Pour the wet mixture into the dry mixture and whisk until just combined. Do not overmix.
Fill each prepared cake pan evenly with batter. Bake for about 30 minutes, or until a tooth- pick inserted in the center of the cake comes out clean, with a few crumbs clinging to it. Be sure to rotate the cakes halfway through baking time. Let the cakes cool completely before assembly.
Step 3. To assemble the cake: Once the cakes are completely cooled, run a knife around the inside edge of each cake pan to loosen, and gently unmold the cake. Peel off the parchment paper and slice each layer in half horizontally, so that you have 4 layers. Break 1 layer into pieces and pulse in the food processor until crumbly. Set cake crumbs aside. You will assemble the cake with the remaining 3 layers. Place one layer on a serving plate or cardboard cake circle, and slide strips of parchment paper under the edges of the bottom of the cake to prevent frosting from getting on the plate. Spread a generous layer of pudding on top of the cake. Place another cake layer on top of the first and spread a generous layer of frosting on top. Repeat with the remaining layer. Frost the sides and sprinkle the cake crumbs over the entire cake. Remove the parchment paper before serving.
Tip:
Cake layers can be made in advance and frozen, unfrosted, for up to 1 month. Pudding can be stored in the refrigerator for up to 1 week. Thaw cakes and frost before serving.
Bon appetit!