Whole Wheat Sunflower Seed Muffins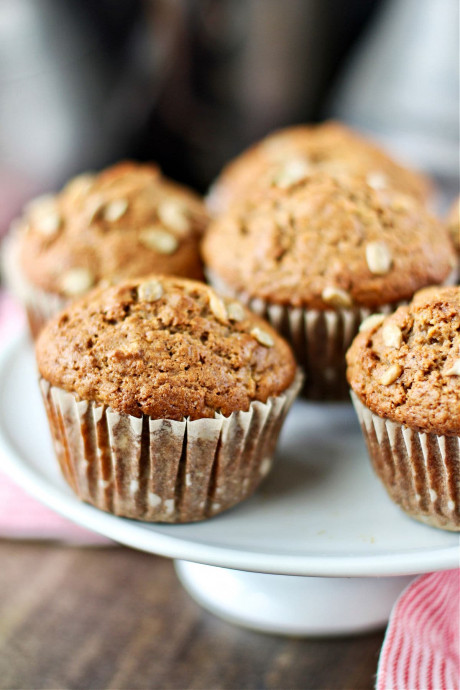 These whole wheat sunflower seed muffins are spiced with cinnamon, ginger, and nutmeg. They are sweetened with brown sugar and grated fresh apple. These may look like traditional whole wheat muffins, but with the grated apple, sour cream, and spiced batter, these muffins are anything but. They are a sweet addition to breakfast, a midmorning snack, or afternoon tea, and the addition of salty roasted sesame seeds adds a little bit of crunch.
Even though the predominant flour in these muffins is whole wheat, they are not at all heavy. In fact, they are light and fluffy!
These muffins are wonderful warm from the oven with or without butter or jam. The tops are slightly crunchy and the crumb is tender and moist.
Ingredients:
5 3/8 ounces (1 1/4 cups) whole wheat flour
2 1/8 ounces (1/2 cup) all purpose flour
1/2 cup dark brown sugar
1/4 cup granulated sugar
1/3 cup plus 3 tablespoons salted and toasted sunflower seed kernels
2 tablespoons cornmeal
1 tablespoon wheat germ
1 1/2 teaspoons ground cinnamon
3/4 teaspoon ground ginger
3/4 teaspoon salt
1/2 teaspoon baking powder
1/2 teaspoon baking soda
1/2 teaspoon ground nutmeg
2 large eggs, room temperature
1/2 cup full fat sour cream
1/4 cup whole milk
1/2 cup canola or other neutral oil
1 teaspoon pure vanilla extract
1 teaspoon lemon zest or lemon paste
1 (5 to 6 ounce) sweet apple, peeled, cored, and grated with a box grater (about 2/3 cup of grated apple)