Vegan Gravy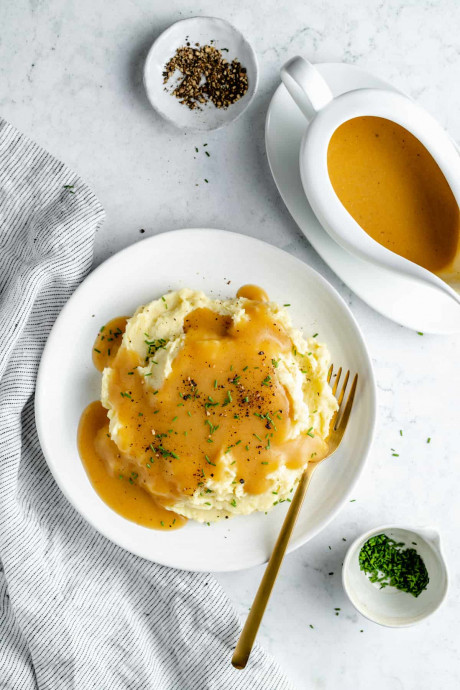 This vegan gravy is packed with rich, umami flavor, and it's super easy to make. 5 minutes of prep time and only 8 ingredients – it's perfect for your holiday table. You'll want to pour it on everything! This is the traditional gravy flavor I remember falling in love with from my pre-vegan days – so if you're looking for that creamy, smooth, umami filled traditional gravy – this is for you! Also if you're not a fan of mushrooms or mushroom gravies, you'll for sure love this one. It still has tons of flavor, making it perfect for pairing with vegan mashed potatoes.
Although this is an easy vegan gravy, there are still a few tricks to getting it to turn out perfect.
Customize to your tastes. If you want a dark, thick gravy, you can let the gravy simmer for a longer time. Prefer a milder flavor? You might want to remove the gravy from the stovetop after only a minute or two of simmering.
Make sure your onion powder and garlic powder are fresh. If you've had them in the pantry for a while, check to make sure they pass the smell test. Open up the bottles and take a whiff. Do they smell like onion and garlic, or do they have a musty, stale kind of smell? Just like herbs, these powders can lose their flavor over time.
Making it gluten free. Use a gluten free flour blend, not something like almond flour or coconut flour, which don't behave like wheat flour in a recipe like this. Serve vegan gravy with vegan mashed potatoes or vegan mashed cauliflower. Pour it over meatless meatloaf, or make your own plant-based version of biscuits and gravy. Basically, any way you use traditional gravy, you can use this vegan gravy!
Ingredients:
2 tablespoons vegan butter or olive oil
2 tablespoons flour
½ teaspoon onion powder
½ teaspoon garlic powder
2 ¼ cups Vegetable Broth lightly coloured
2 teaspoons soy sauce
¼ teaspoon ground black pepper
Salt to taste