Lemon Polenta Cake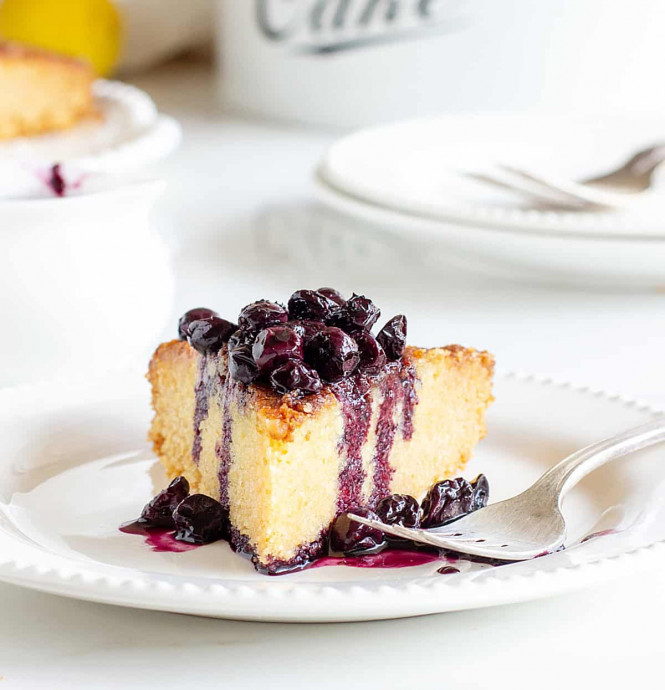 Super easy lemon polenta cake with some ricotta cheese for moisture and served with a gorgeous blueberry sauce. The texture is dense, sweet and a welcomed change from the usual sponge cakes.
It's dense, super moist but coarse, with big flavors and a rather unappealing look because it's not a looker unless you drench it in the blueberry sauce, which for me is a must. But you can eat it as a plain snack cake.
I've been meaning to make a polenta cake for the longest time.
I'm a polenta groupie. It's one of the things that I ate all the time as a kid and loved it. And it pairs so ridiculously well with lemons that I'm really happy to share this recipe with you.The list of ingredients talks of a cake that is sweet, wonderfully humid but somewhat coarse. For me, it's all I like in a cake, because I not only love polenta for baking but ricotta and honey as well.
Ingredients:
¾ cup polenta or yellow cornmeal
¾ cup all-purpose flour
1 teaspoon baking powder
¼ teaspoon salt
1 cup ricotta cheese, at room t°
⅓ cup water or buttermilk
¾ cup (150g) sugar
½ cup honey
Grated zest of 1 lemon
8 Tbs (115g) unsalted butter, melted and cooled
1 tablespoon unsalted butter, cold and in small pieces
2 large eggs, at room t°
For the blueberry sauce:
1 cup blueberries (fresh or frozen)
¼ cup lemon juice
⅓ cup light brown sugar