Roasted Red Pepper Tomato Soup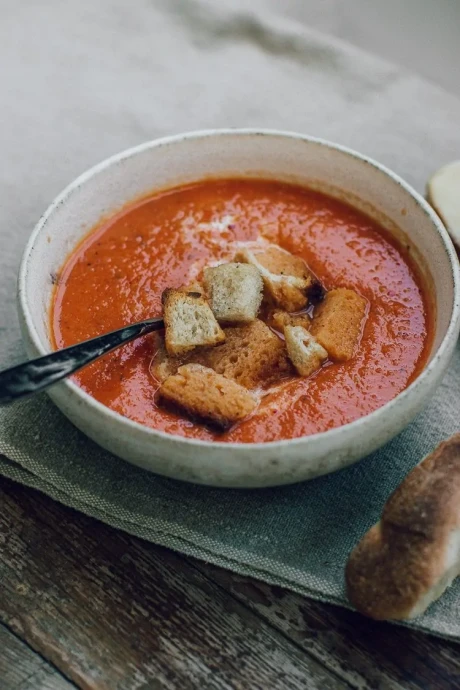 Satisfying roasted red pepper tomato soup that can be served either warm or cold. It's great as an appetizer or a main dish.I played with mom's recipe, adding more red pepper because I love peppers more than tomatoes, and roasting all the vegetables for a deeper, much better flavor. It takes 40 minutes to roast in the oven, but then mixing all the ingredients in a pot only takes 5-10 minutes. It's a delicious, satisfying soup, and it's great to make a day ahead, as I find the flavor improves after a day.
There are only about 3 months of winter here and even then the sun is almost always out and shining, so I treasure every moment of it, getting all cozy in bed with a big bowl of soup.
Ingredients:
4 cloves garlic , unpeeled
4 large or 5 small ripe tomatoes , cored and halved
2 medium or large red bell peppers , quartered and seeded
1-2 tablespoons olive oil
1 medium onion , halved
Salt and pepper
2 cups/500 ml vegetable or chicken broth
½ teaspoon dried thyme
¼ teaspoon smoked paprika
Pinch of chilli flakes
1 teaspoon balsamic vinegar , optional