Best Bourbon Pecan Pie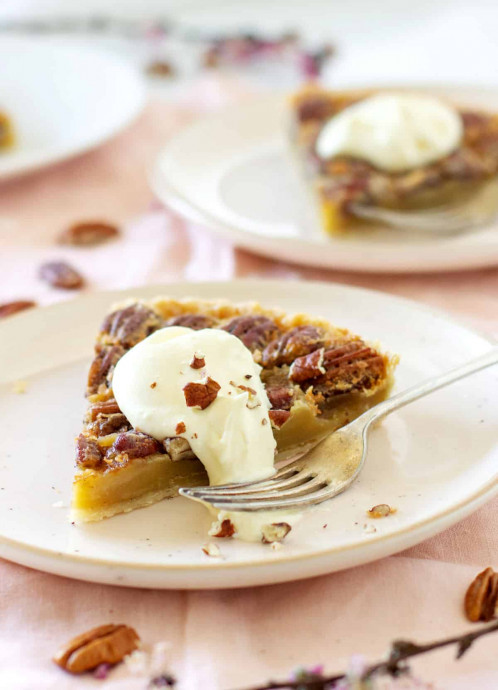 Rich, buttery and crunchy, this is a wonderful pecan pie option when you want a more sophisticated dessert. The filling comes together in 10 minutes and uses brown butter for a deeper and more complex flavor and no corn syrup. Serve it warm with some whipped cream or vanilla ice cream and turn it into a special dessert.
As much as I like the traditional pecan pie, through the years I found that there is another version that doesn't use corn syrups (or any type of syrup for that matter) because it has two very interesting additions: bourbon and brown butter. The first brings a caramel undertone that is simply wonderful and the latter adds a richness and complex flavor that I don't think can be achieved otherwise.
That said, let's get into the details of this pecan pie recipe that, as you can see, is not a tall pie but more of a tart, and I like it that way because it's very decadent and a sliver goes a long way. Pecans: they can be used lightly toasted or raw. Your choice.
Ingredients:
For the dough:
1 recipe for Sweet Shortcrust pastry or 1 recipe for Flaky Pie Crust, with shortening
For the filling:
3 eggs, at room temperature
¼ cup (35g) all-purpose flour
¾ cup (150g) granulated sugar
½ teaspoon vanilla extract
3 tablespoons bourbon
1 ¼ cups pecans, lightly toasted
10 tablespoons (140g) unsalted butter (there is a whole post for how to make brown butter)