The Best Vegan Fried Rice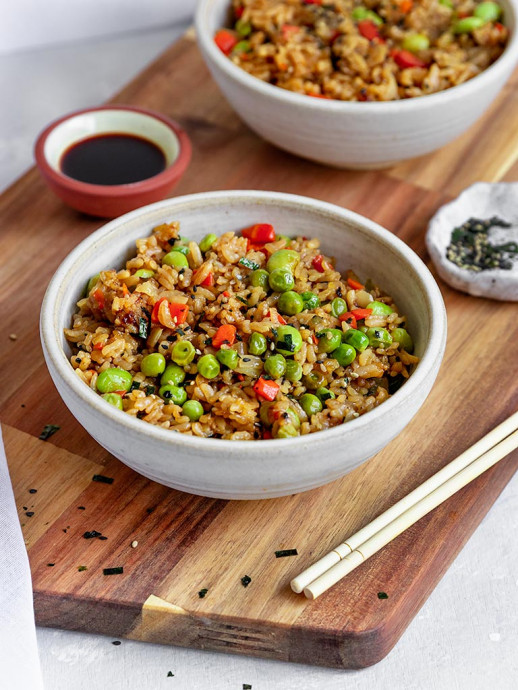 Have you been searching for a Vegan Fried Rice recipe that is similar to the Hibachi-style rice or takeout fried rice you love? If so, look no further than this delicious & homemade fried rice recipe without eggs that contains 10 simple ingredients and can be made in 30 minutes or less!
As you can probably guess from that list my secret to the BEST vegetable fried rice is... using vegan butter! Seriously, skip the oil and go for use vegan butter to make this recipe go from good to great. My other secret is to add a little rice wine vinegar to my soy sauce for a little flavor twist. I truly can't wait for you to try this easy & delicious Vegan Fried Rice! This plant-based recipe has tons of protein thanks to the added peas and edamame and it is truly SO flavorful while being incredibly simple to make. Enjoy!
Ingredients:
3 cups cooked white rice
2 Tbsp vegan butter
4 Tbsp soy sauce
½ Tbsp rice wine vinegar
½ Tbsp sugar
1 cup chopped onion (about ½ onion)
½ cup frozen or fresh peas
½ cup frozen or fresh carrots (finely chopped)
½ cup frozen or fresh shelled edamame
2 Tbsp furikake seasoning (optional, as topping)
2 Tbsp green onions (optional, as topping)