Make-Ahead Homemade Manicotti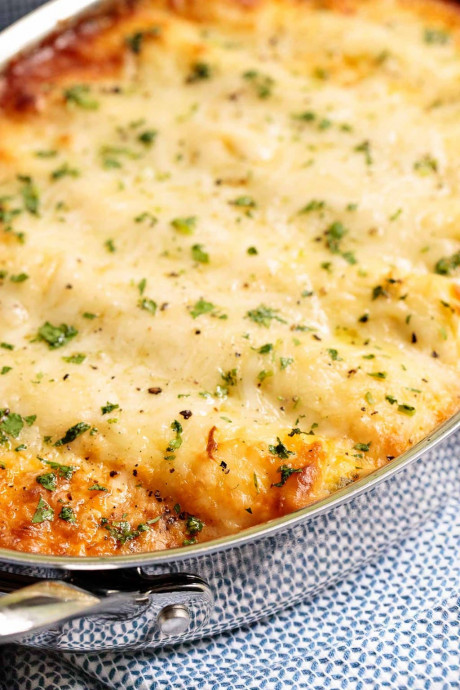 This homemade manicotti is perfect for entertaining because it can be completely made ahead. And since it's hard to find a soul who doesn't enjoy Italian food, this dish is universally well-received by guests of all ages.
I often make a double batch and freeze one pan for later. That way I have a delicious dinner at my fingertips for busy days or unexpected guests. The day before I want to serve the manicotti, I take it out of the freezer and thaw it in the fridge. When dinner time rolls around the next day, all I have to do is pop the pan in a hot oven until it's bubbly and golden, make a salad and warm up some good, crusty bread.
I know, homemade pasta and easy aren't usually adjectives that are strung together. Then again, you might be a little Italian pasta maker who's got the art down pat - but for most of us, the idea of homemade pasta is a little overwhelming for everyday life. It involves special equipment, dough that can be finicky and inconsistent results, to name just a few potential problems.
This pasta has none of the above-mentioned obstacles. If you can make pancakes and you have a small non-stick pan, you can make this wonderful pasta. I had Scott take a few pictures of the process just to show you how it's done.
Ingredients:
For the sauce:
1 teaspoon extra virgin olive oil
8 ounces Italian sausage
2 medium cloves garlic finely minced
1 ½ tablespoons Italian seasoning
2 14 ½- ounce can fire-roasted canned tomatoes
1 teaspoon kosher salt
¼ cup roughly chopped fresh basil leaves
For the pasta:
3 large eggs
¾ cup water
½ cup milk
¾ cup all-purpose flour
2 teaspoons melted butter cooled slightly
½ teaspoon salt
For the filling:
8 ounces ricotta cheese
1 cup shredded Mozzarella cheese I like whole milk Mozzarella
½ cup finely shredded Parmesan cheese
1 large egg
3 tablespoons finely chopped fresh basil or parsley optional
½ teaspoon kosher salt
⅛ teaspoon freshly ground black pepper
For the topping:
2 cups shredded Mozzarella Cheese I like whole milk Mozzarella