Cranberry Bread with Orange Glaze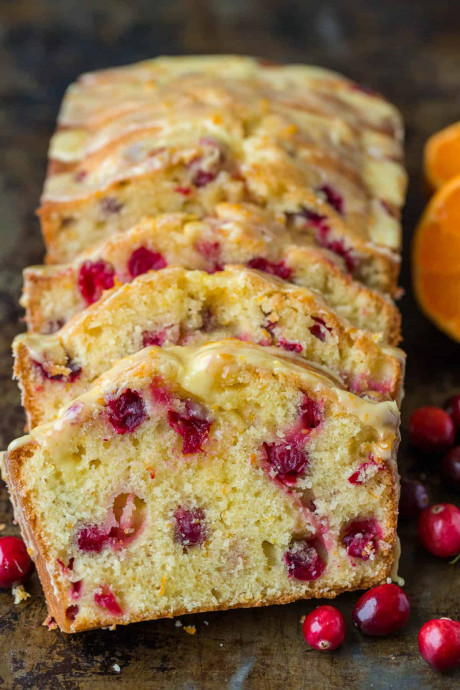 Orange-glazed Cranberry bread has a moist and tender crumb and is loaded with juicy cranberries. It has the perfect balance of sweet and tangy. A lot of cranberries and the orange glaze makes it truly special. You'll love every bite. Tossing cranberries in a little flour coats them lightly and prevents them from sinking to the bottom of the loaf as it bakes. This ensures cranberries are evenly disbursed in the finished loaf.
Orange and cranberry are complimentarily flavored just like peanut butter and jelly. Topping the cranberry bread with orange juice and the orange zest-infused glaze makes this bread irresistible. I'm not sure if it's breakfast or dessert but I've served it both ways. All you need for this easy 3-ingredient glaze is:
Powdered sugar – I spoon it into the cup and level the top for a consistent measure.
Orange juice – Freshly squeezed is best and don't worry about straining. A little pulp won't hurt the bread.
Orange zest – do not skip the zest. It adds deep orange floral notes to the glaze.
Ingredients:
Cranberry Bread Ingredients
1 1/2 cups all-purpose flour
1 tsp baking powder
1/4 tsp salt
1/4 cup milk, room temperature
Zest of 1 large orange, divided
1/4 cup orange juice, freshly squeezed
6 Tbsp unsalted butter, softened
3/4 cup granulated sugar
2 large eggs, room temperature
1 1/2 cups fresh cranberries, rinsed and patted dry
1/2 Tbsp all-purpose flour
Orange Glaze Ingredients:
1 cup powdered sugar
1 1/2 Tbsp freshly squeezed orange juice, or to reach desired consistency
1 tsp orange zest, reserved from the orange above