Maple Frangipane Pecan Pie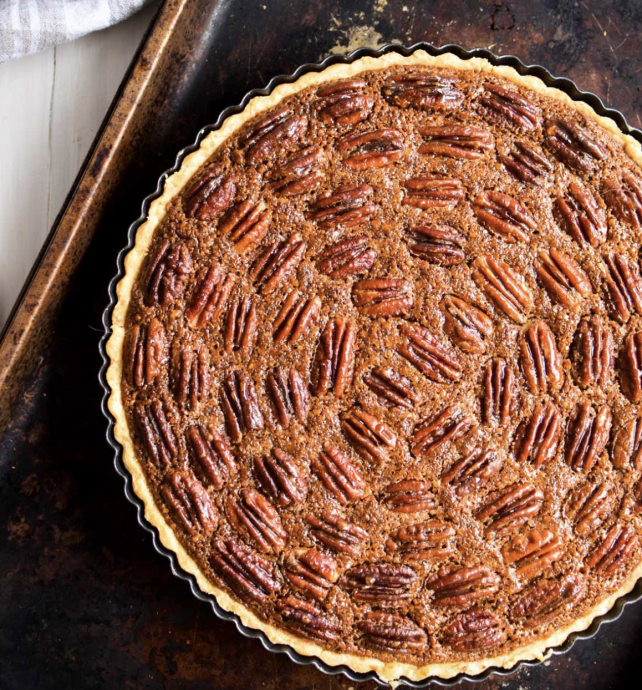 Maple Frangipane Pecan Pie recipe is a delicious tart filled with a rich pecan frangipane flavored with vanilla bean, bourbon, and maple. I love the flavor of pecan pie (who doesn't?) but could never quite get into the ultra sweet gelatinous texture. So I gave my favorite frangipane filling a pecan twist, flavored it with vanilla bean and bourbon, and spread it into a flaky, buttery pie crust. Of course I topped the whole thing off with more pecans brushed with maple syrup. I'm telling you the result is pure pecan loving heaven, that fluffy frangipane filling is lightyears ahead of the competition. It's…seriously really good.
Frangipane is a traditional French pastry filling usually made with ground almonds. You might know it best as the irresistible filling inside almond croissants from the bakery. It also features in my White Peach Frangipane Galette, and my Ranier Cherry Almond Tart. The texture of frangipane is moist, soft, and a little chewy, and perfect as a filling for a tart or pastry. It's dense and rich without being cloyingly sweet and heavy.
A few simple swaps resulted in an absolutely delicious pecan version of a frangipane filling that I'm LOVING as an alternative to the traditional corn-syrup based pecan pie.
Ingredients:
2 1/2 cups all purpose flour
1 cup unsalted butter, cold
1 tsp salt
1 tsp granulated sugar
1/4 cup ice water
1 cup unsalted butter
1 cup dark brown sugar
2 eggs
2 tsp vanilla bean paste or vanilla extract
2 tsp bourbon
1/2 tsp salt
2 cups ground toasted pecans, see note about making them below
2 Tbsp all purpose flour
70 or so pecan halves, for topping
1/4 cup maple syrup, for brushing