Roasted Cauliflower, Chickpea and Arugula Salad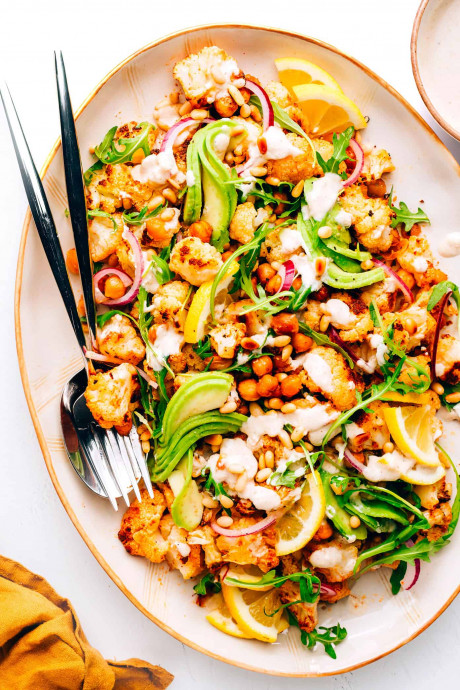 This Roasted Cauliflower, Chickpea and Arugula Salad recipe is tossed with arugula, avocado, toasted pine nuts, and my favorite lemon-tahini dressing. Simple, hearty and so delicious!
Cauliflower florets and chickpeas are tossed together with a quick blend of zesty seasonings and roasted to perfection. Then they are served up hot out of the oven alongside peppery fresh arugula, creamy avocado, crisp red onions, buttery toasted pine nuts, and then drizzled with my favorite dreamy tahini-lemon dressing. It's a savory salad that we return to again and again because it's so simple and satisfying. And those vibrant colors always make it a showstopper for entertaining too!
Feel free to play around with the ingredients and swap in whatever nuts, greens, or seasonings you love best. And if you would like to add in an extra protein, grilled chicken would be delicious in this salad too.
Alright, let's make some salad!
Ingredients:
SALAD INGREDIENTS:
1 medium head of cauliflower, cut into small florets
1 (15 ounce) can chickpeas, rinsed and drained
2 tablespoons olive oil
1 teaspoon fine sea salt
1/2 teaspoon each: ground cumin, garlic powder, onion powder, smoked paprika
1/4 teaspoon freshly-cracked black pepper
5 ounces fresh arugula
1 large ripe avocado, thinly sliced
1/2 small red onion, thinly sliced
1/3 cup toasted pine nuts
extra lemon wedges, for serving
DREAMY TAHINI DRESSING:
1/4 cup tahini
3 tablespoons freshly-squeezed lemon juice
1/4 teaspoon ground cumin
1 clove garlic, pressed or minced
2–4 tablespoons warm water
fine sea salt and freshly-cracked black pepper, to taste