Cream Cheese Stuffed Chocolate Cookies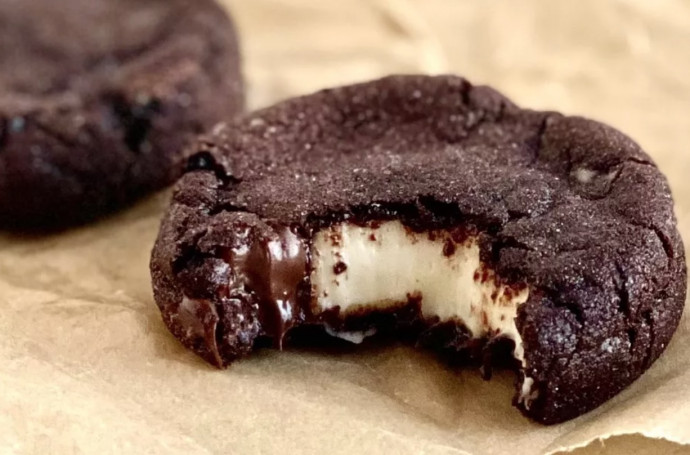 Chocolate cookies are one of the greatest pleasures but stuff them with cream cheese and they might just become your new favorite. If you are fond of black bottom cupcakes, chocolate cookie crusted cheesecake, or just dig the combo of chocolate and cream cheese—which is a match made in heaven, by the way—we've got a cookie for you.
A simple chocolate cookie dough with secret ingredients (like shortening for a thicker, chewier cookie, and corn syrup for a moist cookie and even more chew) is filled with a mixture of cream cheese and confectioners' sugar. Plus a dash of salt because salt makes everything taste better, especially sweets. The assembly sounds much trickier than it is, but all you need to do is flatten the portioned dough and dollop a small scoop of filling, then it's fairly easy to wrap the dough around the filling.
Rolling the balls of stuffed cookies in granulated sugar gives them a wonderful sparkle and crunch post-bake. A short(ish) rest in the freezer helps the cookies keep their shape during baking. To say you are in for one heck of a dreamy cookie when you take your first bite is an understatement.
Ingredients:
For the Cookies:
1 3/4 cups (210 grams) all-purpose flour
3/4 cup Dutch process cocoa powder
1 teaspoon baking soda
3/4 teaspoon kosher salt
2/3 cup semisweet chocolate chips, optional
1 large egg
1 large egg yolk
1/3 cup light corn syrup
2 teaspoons pure vanilla extract
1/2 cup unsalted butter, melted
6 tablespoons melted vegetable shortening
3/4 cup light brown sugar
1/4 cup granulated sugar, more for rolling
For the Filling:
8 ounces softened cream cheese
1/3 cup confectioners' sugar
1/2 teaspoon kosher salt