Chocoflan Recipe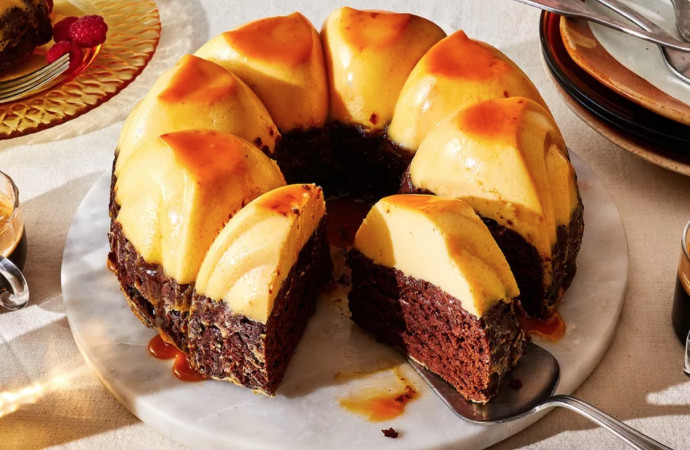 Chocoflan is simply the perfect dessert. It blends the creaminess and delicacy of a flan custard with the richness of chocolate cake. It's also known as Impossible Cake, thanks to the magical way it bakes. Build the layers by pouring the chocolate batter in first, then the flan over it. While it bakes, the flan and chocolate layers flip. This is because the egg and cream in the custard cooks faster than the chocolate layer, so the flan sinks below and the chocolate layer rises.
Allow your chocoflan to chill in the refrigerator at least four hours before you invert over a plate and gently release it from the pan to reveal its magical layers. This recipe is made for a bundt pan, which helps the cake cook evenly and shows off the layers beautifully when sliced.
In Mexico you can find chocoflan sold by street vendors. In the U.S. it's become increasingly popular at Mexican restaurants. But the best chocoflan is the kind you make yourself at home.
Ingredients:
For the chocolate cake layer:
5 large eggs
3/4 cup sugar
11 tablespoons unsalted butter, room temperature
1 cup all-purpose flour
1/4 cup cocoa powder
For the flan layer:
1 (14-ounce) can sweetened condensed milk
1 3/4 cup heavy cream
7 large eggs
1 tablespoon pure vanilla extract
3/4 cup sugar
1/4 cup water
Vegetable oil, for the pan
1/2 cup raspberries, for garnish, optional