Vegan Lentil Sausage Rolls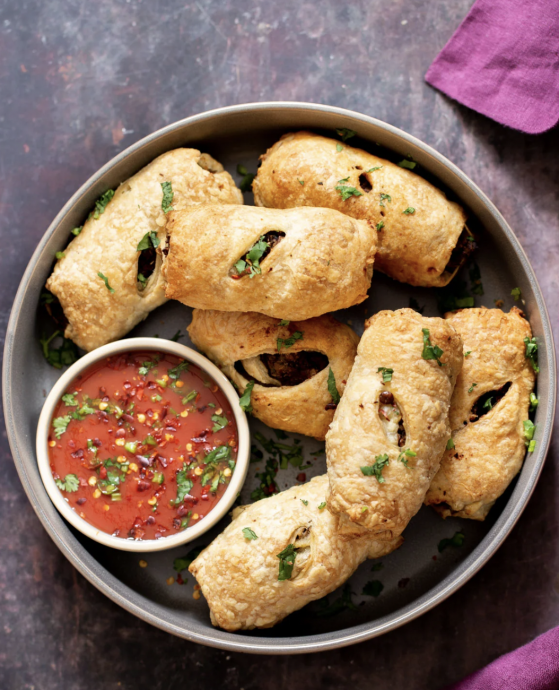 Vegan Lentil Sausage Rolls – savory rolls filled with delicious vegan lentil sausage. This is the perfect appetizer or snack when served with marinara. Soy-free. Glutenfree & nut-free option.
These delicious and easy homemade vegan sausage rolls feature a savory herby lentil sausage filling encased in a golden, flaky vegan puff pastry. These rolls come together in minutes and need just seven ingredients. They make a fun addition to a lunchbox, and are can be made gluten-free, soy-free and nut-free.
These meatless vegan sausage rolls are just perfect as an appetizer, as a party food ( hello, St Patricks Day) as a savory snack or even as lunch. They bake up crispy and crunchy and incredibly savory, and I bet you won't be able to stop after one. You'll live these sausage rools: They are easy to put together, the lentil sausage filling is delicious and versatile. These rolls are Soyfree and They can easily be made Nutfree. Kids love these as they are easy to pack into lunch boxes or grab on the go!
Ingredients:
For the lentil mixture:
1 teaspoon oil
3/4 cup (120 g) chopped red onion
1 teaspoon coarsely crushed fennel seeds
1 teaspoon oregano
3/4 teaspoon thyme
1 teaspoon basil
1/2 teaspoon sage
1 teaspoon garlic powder
3/4 teaspoon onion powder
1/2 teaspoon salt or use depending on the salt content of the lentils
1 teaspoon smoked paprika
1/4 teaspoon black pepper
15 ounce (430 g) can of lentils drained or 1 1/2 cups cooked brown or green lentils
1/4 cup (30 g) coarsely chopped walnuts chopped into small meal like pieces
1 teaspoon lemon juice
2 tablespoons finely chopped sun dried tomato
For the shell:
(320 g) 9x9 inch or similar size sheet of vegan puff pastry many brands are accidentally vegan
water to seal