Blueberry Cucumber Summer Salad With Creamy Balsamic Vinaigrette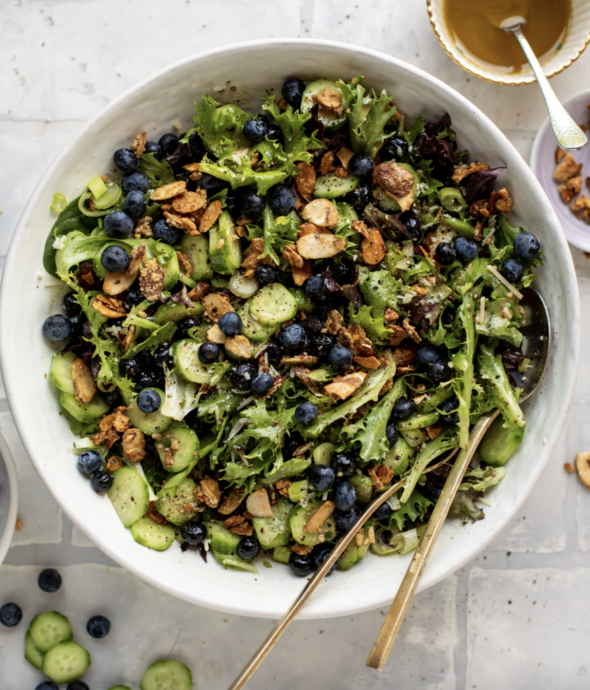 It's so summery, refreshing and crispy. You just need simple ingredients: A big old bunch of spring greens. But of course, you can use your favorite variety of greens! Fresh blueberries that are getting SO good right now. Fresh cucumber for a refreshing punch. Thinly sliced scallions, because they add the perfect bite without being way too onion-y. Parmesan cheese, because cheese is life. And sugared almonds which add this granola-like crunch and a hint of sweetness.
The key to the creamy balsamic is to add a little heavy cream into the dressing. I've made so many dressings with yogurt and mayo and yes, that's a possibility here. But it never fails that the yogurt or mayo separates and almost curdles in the dressing after it sits for a while. With the heavy cream, this never happens! You still have to shake it up or stir it well, but it won't get all weird on you.
Ingredients:
⅔ Cup sliced almonds
3 tablespoons sugar
8 cups spring greens, baby spinach or your greens of choice
Salt and pepper
4 baby seedless cucumbers, thinly sliced
4 green onions, thinly sliced
1 cup blueberries
¼ cup finely grated parmesan cheese
Creamy balsamic vinaigrette
¼ cup balsamic vinegar
1 garlic clove, minced
2 tablespoons heavy cream
2 teaspoons dijon mustard
2 teaspoons honey
Pinch of salt and pepper
½ cup extra virgin olive oil
2 tablespoons fresh chives