Savory Dutch Baby With Boursin and Peas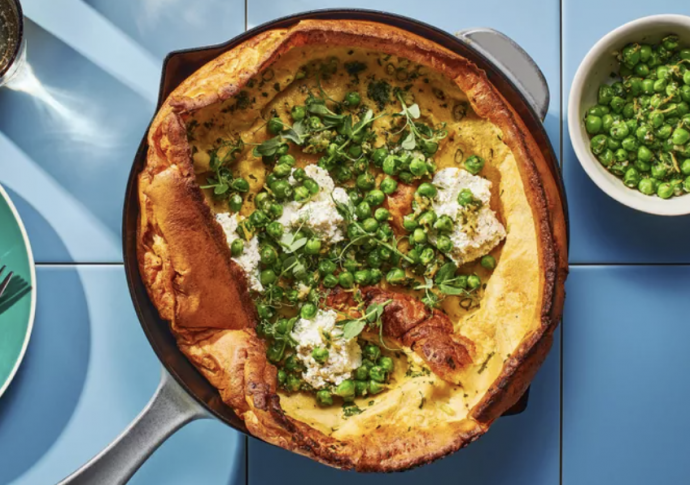 Also known as a German pancake, the term Dutch baby was trademarked by the owner of Seattle restaurant, Manca's, in 1942. This breakfast classic was so named from the misinterpretation of the appellation "Deutsch" (meaning German) and "baby" from the mini pancakes they also sold.
A savory Dutch Baby is a great idea for brunch or for lunch with a side salad. The topping combination of English peas and Boursin cheese is perfect. This recipe is a terrific blueprint for other possibilities. I could see trying this with diced ham, bacon, asparagus, or smoked salmon. So many toppings would work well here.
Ingredients:
For the Pancake
3 large eggs
3/4 cup whole milk
2/3 cup (80 grams) all-purpose flour
2 tablespoons unsalted butter, melted
1/2 teaspoon fine salt
1/2 teaspoon ground black pepper
2 tablespoons unsalted butter
2 teaspoons finely chopped fresh Italian parsley
2 teaspoons finely chopped scallions
For the Peas
1 tablespoon unsalted butter
1 tablespoon extra-virgin olive oil
1 cup fresh English peas
2 cloves garlic, minced
1 1/2 tablespoons finely chopped scallions
1/2 cup water
1 1/2 tablespoons finely chopped fresh Italian parsley
1/4 teaspoon fine salt
1/2 teaspoon ground black pepper
Finely grated zest of 1 lemon
To Finish
1 puck (5.2 ounces) Boursin cheese
1 tablespoon finely chopped fresh Italian parsley, optional
Pea shoots, optional