Creamy Spicy Sweet Potato Salad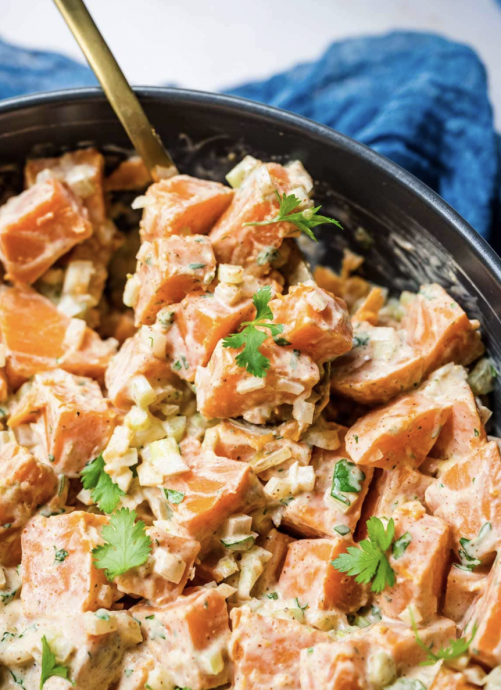 Creamy Spicy Sweet Potato Salad is the perfect side bursting with flavor from lime, chili powder, cayenne pepper, cilantro, and coriander.
The only thing you really need to worry about with this recipe is making sure you start making it in advance. While it is pretty quick to assemble the salad, you also need to give it enough time to chill before serving. Letting the potatoes cool before mixing them with the other ingredients, and letting the combined salad chill in the fridge is all vital to make sure you don't end up with runny potato salad.
This recipe is also a great way to serve some healthy ingredients with a BBQ or at a weeknight dinner. Though, it's just as creamy as typical potato salad, the sweet potatoes have a lot more vitamins and minerals. It's a delicious Summer side that you can feel good about serving your whole family!
Ingredients:
3 pounds sweet potatoes , peeled and cut into 1 inch chunks
1/2 yellow onion , minced
1/2 cup celery , minced
1/4 cup cilantro , minced
1 cup mayonnaise
1 lime , juiced and zested
1 teaspoon chili powder
1 teaspoon ground coriander
1/2 teaspoon cayenne pepper
1/2 teaspoon kosher salt
1/4 teaspoon coarse ground black pepper