Dutch baby (German pancake)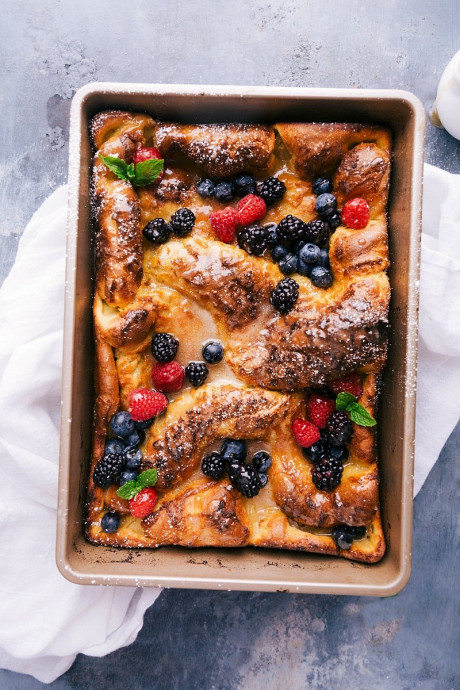 This Dutch baby (also known as a German pancake) is the best I've ever had! It has a light custard base, fluffy sides and edges, and a rich buttery flavor. There are so many ways to top your Dutch baby, but today I'm sharing our favorite way — with plenty of fresh berries, a sprinkle of powdered sugar, and an easy buttermilk syrup.
Dutch babies were introduced in the 1900s in a family-owned restaurant owned by Victor Manca. The name "Dutch baby" was coined by the owner's daughter.
Dutch baby pancakes are basically a hybrid of a pancake, a crepe, and a popover — all in one giant pan. They're also often made in a skillet, and today I'll share how to make them either way. Frequently German pancakes are made in a cast iron skillet. I'd say the skillet typically serves 2 people, so it's never enough for our family, and that's why I'm sharing a version made in a 9 x 13 pan. That said, I have tested it both ways — in a skillet or pan. The skillet you use doesn't have to be cast iron; you can use any oven-safe pan (or baking dish) that is approximately 9 by 12 inches. You can even make a dutch baby in a pie pan!
Ingredients:
1 cup (140g) white all-purpose flour
1 and 1/3 cups (340g) whole milk
3 large eggs
1 large egg yolk
1/2 teaspoon fine sea salt (or 1/4 teaspoon table salt)
1 teaspoon pure vanilla extract
3 tablespoons (40g) white sugar, optional
1/4 teaspoon ground cinnamon, optional
6 tablespoons (85g) unsalted butter
Optional: fresh berries for serving
Buttermilk syrup (optional)
1/4 cup (40g) dark brown sugar, loosely measured/not packed (can use light brown sugar)
3/4 cup (160g) white, granulated sugar
1/2 cup (8 tablespoons) butter
1/8 teaspoon fine sea salt
1/2 cup (127g) buttermilk
1/2 teaspoon baking soda
1 teaspoon vanilla