Lumpia Shanghai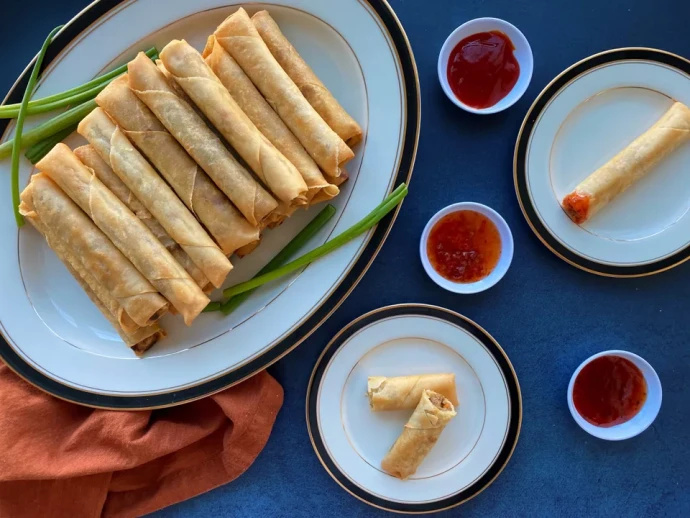 Lumpia is a type of spring roll that is found everywhere in the Philippines all year round. A cultural staple at every type of celebration, this tasty dish is more than a meal; it represents memories of family and friends all sitting around the table filling and rolling while talking and laughing together. Our filling is a combination of pork and beef, flavored with garlic, ginger, and scallions. Paired with crispy, crunchy wrappers that crackle when you bite into them, our recipe is simply perfect.
The classic version of these rolls is called lumpia Shanghai, but there isn't one exact way to make lumpia as it depends on the household, the cooks, and personal preferences. Some leave their filling raw before frying, while others precook it. Some use pork, while others use beef, chicken, shrimp, or a combination of two. Variations abound, but a filling of ground meat, carrot, and onion is a basic recipe, along with a dipping sauce, like sweet-and-sour sauce or sweet chile sauce.
Because they're time-consuming, lumpia can be made in big batches and then placed in the freezer. Just store the uncooked lumpia in a freezer bag and fry from frozen, adding a few extra minutes to the cooking time.
Ingredients:
1 tablespoon vegetable oil, plus more for frying
1 medium yellow onion, finely chopped (about 1 cup)
1 medium carrot, peeled and finely chopped (about 1/2 cup)
2 cloves garlic, grated
1 teaspoon freshly grated ginger
1/2 pound ground pork
1/2 pound ground beef
4 scallions, finely chopped (about 1/4 cup)
1 1/2 teaspoons kosher salt
Ground black pepper (to taste)
25 spring roll wrappers, 8-inch square, preferably Spring Home brand
1 large egg white
For serving: sweet chile sauce, sweet-and-sour sauce, or banana ketchup