Spinach Basil Pesto Quesadillas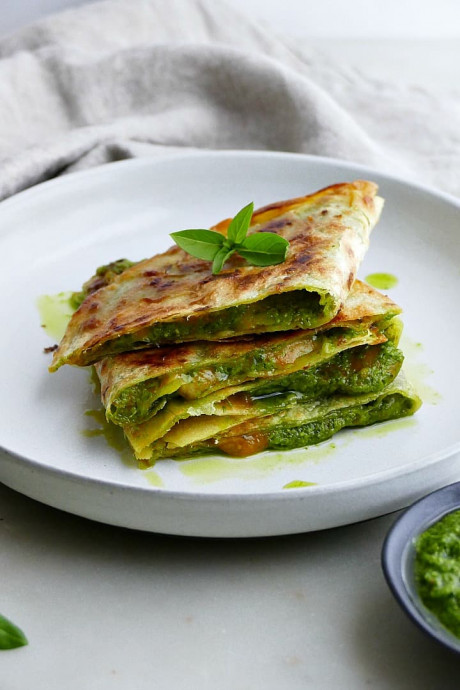 These vegetarian pesto quesadillas are made with fresh spinach and basil pesto. They come together in 15 minutes for an easy lunch or dinner that the whole family will love!
Is there a better condiment than fresh pesto? Honestly, I don't think so! And being that it's peak basil season right now, I'm really on a pesto kick.
Pesto is an amazing sandwich spread and dip, but did you know that you can also use it on quesadillas?! Yep. Pesto quesadillas are a game changer, my friends.
They're gooey, melty, cheesy, and simply delicious. Not to mention, they only take 15 minutes to prepare. I snuck some spinach into the pesto too for an added vegetable and a little more green color.
This recipe makes a great dinner for a hot summer night when you don't want to turn on the oven. And for all of you out there who are working from home, you can even whip this one up for lunch! I'm very much into it. Some parmesan cheeses are made with animal rennet and are therefore not considered vegetarian. Be sure to look for a variety that is made with vegetarian rennet if you need your pesto quesadillas to be strictly vegetarian.
Ingredients:
For the pesto
1/3 cup raw pine nuts
1 cup spinach - packed
1 cup fresh basil leaves - packed
2 cloves garlic - minced
1/3 cup freshly grated parmesan cheese
1/2 lemon - juiced
1/2 tsp fine sea salt
1/2 cup olive oil
For the quesadillas
6 8-inch flour tortillas
1.5 cups shredded Mexican cheese - more to taste