Mocha Cheesecake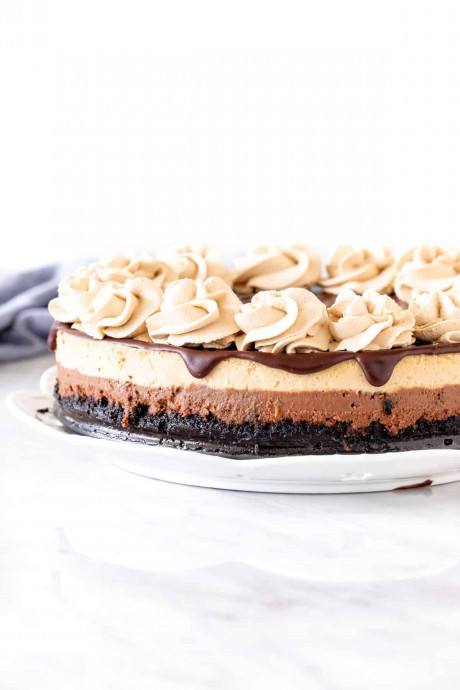 This mocha cheesecake is extremely creamy with layers of chocolate and coffee cheesecake. With an Oreo cookie crust and chocolate ganache on top, it's decadent and rich but not too sweet. The perfect grown-up dessert.
This layered mocha cheesecake is incredibly decadent in the best possible way. It starts with a thick Oreo cookie crust as the base. Then there's a layer of tangy chocolate cheesecake followed by a layer of coffee cheesecake. Chocolate ganache and coffee-infused whipped cream on top make for a truly show stopping dessert. The combination of coffee and chocolate make this cheesecake rich, but too sweet.
It starts with a thick Oreo cookie crust. You'll crush Oreo cookies until they're fine crumbs, then mix in melted butter. It will feel a bit like damp sand. Then press the mixture into the bottom and just slightly up the sides of the pan to create a lip. The crust will bake on its own for about 10 minutes, so that it's nice and crunchy.
Ingredients:
Oreo Crust
26 Oreo cookies
⅓ cup unsalted butter melted
Cheesecake
5 ounces dark chocolate
1 cup whipping cream
1 ½ teaspoons instant coffee powder
24 ounces full-fat cream cheese room temperature
1 ¼ cup granulated sugar
1 tablespoon cornstarch
4 large eggs room temperature
Chocolate Ganache
4 ounces dark chocolate
½ cup whipping cream
Coffee Whipped Cream
½ cup whipping cream
1 teaspoon instant coffee powder