Levain Bakery Chocolate Chip Cookies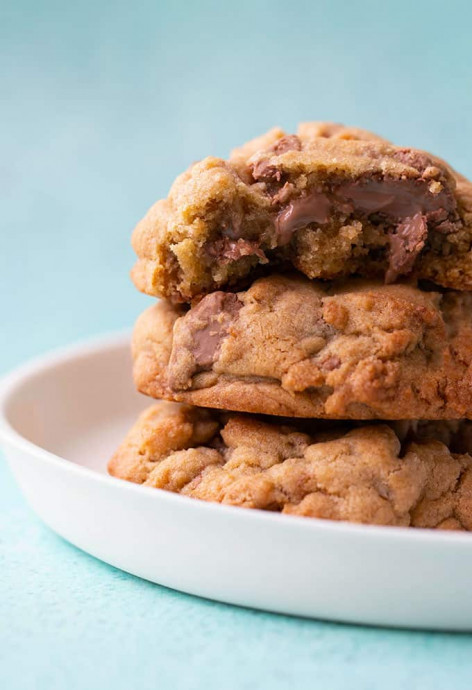 These big, buttery chocolate chip cookies are soft and chewy and filled to the brim with chocolate. I am obsessed with these cookies.
And rightly so. These thick and chewy Levain Bakery Chocolate Chip Cookies are what my sugar-coated dreams are made of. They're big, buttery and completely irresistible. If you love cookies with crispy, golden edges and a melty centre filled with chocolate, these cookies have your name on them. You don't need any special equipment to make these cookies. In fact, you only need all the basic ingredients of a regular Chocolate Chip Cookie, but you need to follow the instructions carefully for best results.
A big part of the cookie magic has to do with the temperature of the butter. While most cookie recipes rely on softened butter or melted butter, but this recipe calls for cold butter. It helps the cookies not to spread too much in the oven. Another key is the amount of fix-in's. There's alot of chocolate AND nuts in this recipe, just like Levain Bakery's cookie. It also helps the cookies stay thick and lumpy.
Ingredients:
115 grams (1/2 cup or 1 stick) unsalted butter, COLD (straight from the fridge), roughly chopped
190 grams (1 cup) brown sugar
1 teaspoon vanilla extract
1 large egg, cold
245 grams (1 and 3/4 cup) plain flour or all purpose flour
1 tablespoon cornflour or cornstarch*
1/2 teaspoon baking soda
Pinch of salt, optional
225 grams (1 and 1/2 cups) dark or milk chocolate, chopped by hand
50 grams (1/2 cup) walnuts, roughly chopped