Chicken Florentine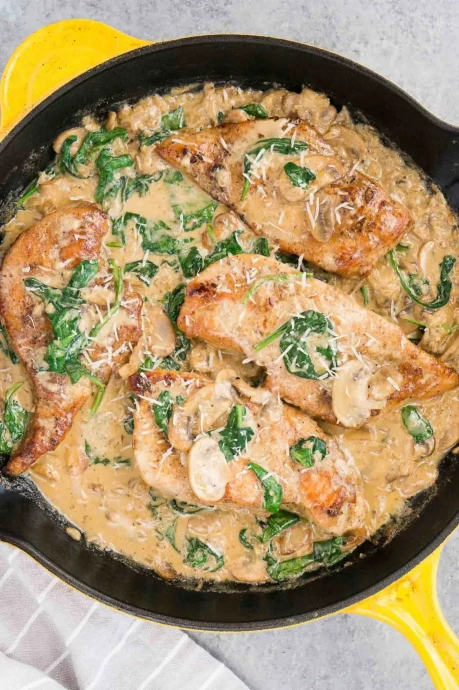 Deliciously rich and creamy, this chicken florentine recipe is a great one pan meal that is always a crowd-pleaser. Chicken breasts are cooked in a cream, white wine, and parmesan sauce with mushrooms and spinach for one tasty bite. Chicken florentine is a classic chicken dinner that is universally loved. Tender and juicy chicken breasts smothered in a creamy spinach florentine sauce that is full of flavor.
This recipe is a great option for a weeknight meal, but easily delicious enough to serve to company. Every bite is so tasty, I just know you are going to love it!
In the culinary world, to serve a dish "Florentine style" (pronounced "FLOR-en-teen") means that a recipe is prepared in the style of the Italian region of Florence and it features spinach. This easy chicken florentine recipe is best made when you are ready to serve it so that the chicken is tender and juicy. If you do have leftovers, they will keep well for 3 to 4 days in the fridge and can be reheated in the oven at 360F, covered with foil, until warmed through. You may want to add in a couple of tablespoons of water to loosen the sauce back up.
Ingredients:
2 large chicken breasts, cut in half lengthwise (butterflied)
1/2 teaspoon garlic powder
1/2 teaspoon each salt & pepper
Flour for dredging, gluten-free flour works too
1 tablespoon olive oil
2 tablespoons butter, divided
8 oz mushrooms, sliced
½ cup onion, chopped
3 cloves garlic, minced
1 cup dry white wine
1 cup chicken broth
1 pinch Italian seasoning
1 cup heavy whipping cream
2 cups loosely packed fresh baby spinach
1/2 cup freshly grated parmesan cheese