Cashew Thai Quinoa Salad with Peanut Ginger Sauce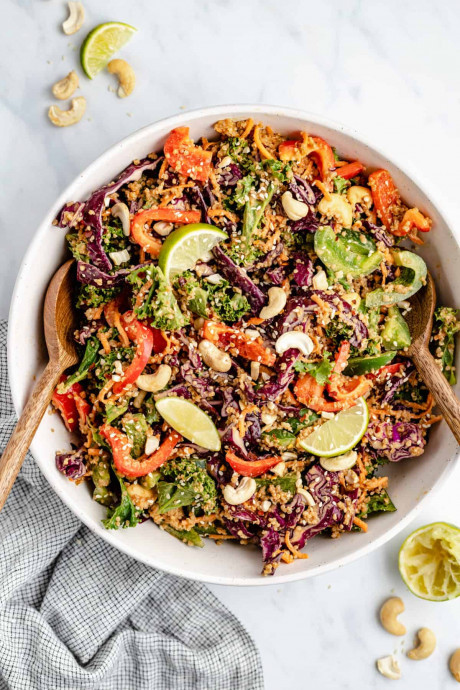 This Cashew Thai Quinoa Salad takes only 15 minutes and is a colourful vegan meal perfect for a light lunch or dinner! Loaded with Thai inspired ingredients and dressed with a divine peanut ginger sauce, it's crunchy, packed with protein, and full of flavour. This crunchy, incredibly flavourful full vegan salad is perfect for dinner but is also completely fuss-free for lunch. HELLO, perfection in a bowl! Now, how about we get into this total dreamy rainbow effect of a salad? Based on my Fresh Spring Rolls, I eliminated the wraps and noodles to make this quick meal. I switched up the lettuce for kale (so yummy and curly), added crunchy cashews, and plenty of quinoa for protein. This salad will leave you full and completely satisfied.
And can we talk about this peanut ginger dressing? It's honestly the best sauce/dressing, one I would totally order over and over at any restaurant, and one I want to put on every single salad, forever. It also stores perfectly and is the perfect complement to this beautiful salad.
Ingredients:
1 large carrot julienned
2 cups cooked quinoa
3 cups sliced Red Cabbage (200g)
1 cup chopped Red bell pepper (104g)
1 cup chopped green bell pepper (104g)
2 cups kale removed from stems, washed, dried and chopped
1/4 cup cashews chopped
1/2 small lime
Peanut Ginger Sauce:
1/2 teaspoon ground ginger
1 tablespoon maple syrup
2 tablespoons tamari or liquid aminos or (gluten-free if needed) low sodium soy sauce
1 teaspoon distilled white vinegar
1/2 teaspoon sesame seeds
1/3 cup natural peanut butter
1/4 cup warm water
1/4 teaspoon crushed red pepper flakes