Rum Raisin Bread Pudding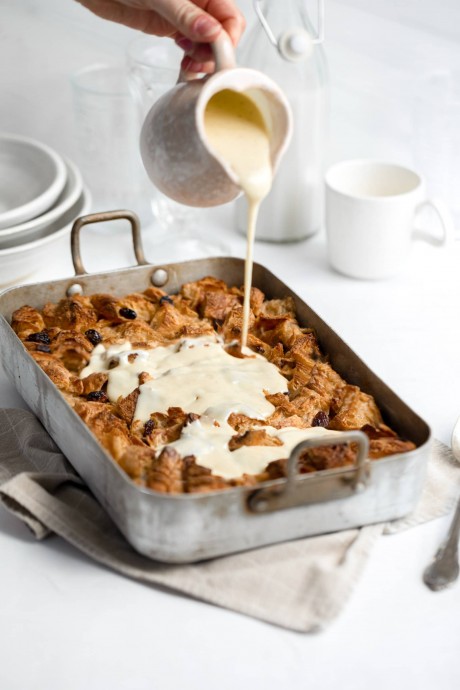 Looking for a way to use up those day old croissants or stale brioche? Introducing rum raisin bread pudding: a boozy, buttery, flavorful sweet treat perfect for filling up your belly all fall and winter long!
4 words: Rum. Raisin. Bread. Pudding. AKA the most scrumptious bread pudding you'll ever have with a boozy kick, plump raisins, and the best buttered rum sauce. The rum cuts the sweetness perfectly, the juicy raisins complement the decadent croissants, and the rum sauce really pushed it over the edge…I'm salivating just thinking about it.
Now, if you're skeptical I get it. I used to not be a big bread pudding person. I always thought of it as a mushy, bready, excuse of a dessert. Until now. You guys…this bread pudding is SO good. It's buttery; it's boozy; it's perfectly sweet; and it's super easy to make. Plus it feeds a crowd, requires virtually zero prep time and doesn't call for any crazy ingredients. It's the perfect heart warming, cozy dessert to fill your belly with as the temperatures start to drop.
You'll need these 8 simply ingredients to make this boozy bread pudding recipe. That being said, this recipe is incredibly forgiving, so feel free to use what you have on hand and tweak it to what works for you. It's incredibly easy to make: Aside from the buttered rum sauce, this bread pudding recipe is about as easy as it gets. You literally put everything in bowl and then bake it. Et voila! Gourmet dessert.
Ingredients:
3/4 cup brown sugar
3 cups milk
1/4 cup rum
5 eggs
1 teaspoon cinnamon
1/2 teaspoon salt
2/3 cup raisins
6 cups of croissant pieces (about 9 croissants)
1 cup heavy cream
1/2 cup brown sugar
3 tablespoons rum
2 tablespoons butter
1 tablespoon flour
pinch salt