Melted Snowman Cookies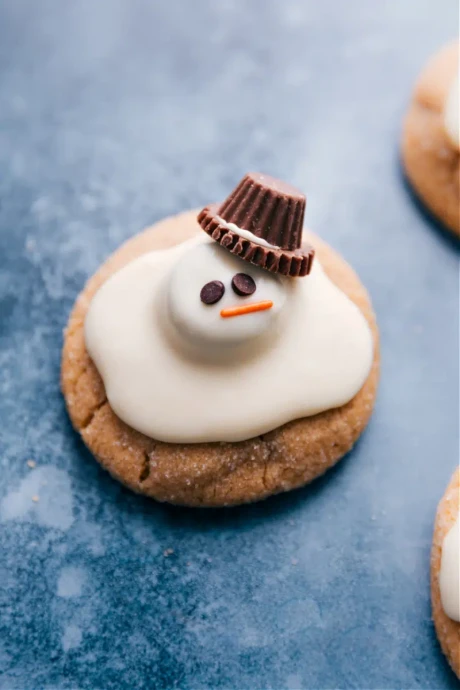 Melted Snowman Cookies not only make such a fun winter treat–they're also crazy delicious! These sugary peanut butter cookies are topped with a peanut butter cup and melted white chocolate. Throw on a few candies to decorate the tops like a melting snowman.
Melted Snowman Cookies aren't anything "new" to the internet, but I'm so excited to share my take on them because if you're a chocolate and peanut butter fan, these are the tastiest version of Melted Snowman Cookies around!
No need for a melted snowman cookie cutter– these cookies don't require any special baking tools to create!
Start by whipping up a batch of your favorite cookies–either homemade or store-bought (we love and recommend peanut butter cookies for this recipe). Press a peanut butter cup on top of the cookie and let it cool. Once fully cool, top with melted white chocolate, a peanut butter cup "hat," an orange sprinkle for the nose, and 2 miniature chocolate chips for the eyes.
The video tutorial on this post is helpful to see how these melted snowman cookies come together.
Ingredients:
1 cup (16 tbsp.) unsalted butter, melted
1 cup light brown sugar, lightly packed
1 cup white granulated sugar, plus some extra for rolling cookie dough balls
1 cup creamy peanut butter
1/8 teaspoon almond extract, optional
1 tablespoon vanilla extract
2 large eggs
1 teaspoon baking soda
1/2 teaspoon fine sea salt
2-2/3 cup white all-purpose flour
Decorating
1 bag (12 oz.) miniature peanut butter cups, unwrapped
1 bag (8 oz.) mini peanut butter cups These are even smaller than the miniature ones; they come in a bag already un-wrapped.
Orange jimmies sprinkles
Miniature chocolate chips
1 bag (12 oz.) white chocolate chips