Chicken Stroganoff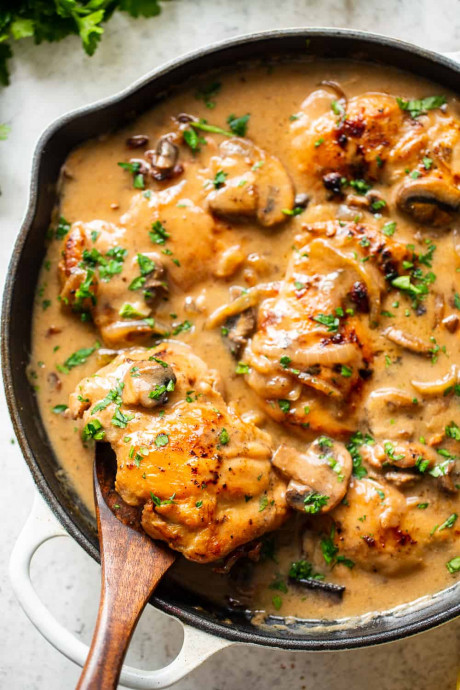 This hearty and savory paleo chicken stroganoff is made all in one skillet for a quick, delicious and cozy weeknight meal. It's Whole30, low carb and keto and delicious served over sautéed cauliflower rice, your favorite veggie noodles or roasted veggies.
If you don't need this recipe to be Whole30 and can eat dairy, you can sub in sour cream for the coconut cream/lemon juice mixture. You can also use a dairy free sour cream instead of the coconut cream/lemon mixture.
If you prefer to cook boneless chicken breasts instead of thighs, this is fine too.
I recommend pounding the breasts or butterflying them for even cooking, and checking for doneness earlier since breasts tend to dry out quickly. To keep this recipe paleo, Whole30 and keto friendly, you can serve over sautéed cauliflower rice or zucchini noodles. You can also make a big batch of your favorite roasted veggies and serve alone with that. The creamy mushroom gravy makes this a filling recipe, so serving with veggies alone works well!
Ingredients:
4 Tbsp ghee divided
1.5 lbs boneless skinless chicken thighs
1 teaspoon garlic powder
1 teaspoon onion powder
1/2 teaspoon smoked paprika
Sea salt and black pepper
1 large onion thinly sliced
8 oz mushrooms sliced
3 cloves garlic minced
2 Tablespoons arrowroot flour or tapioca
2 cups chicken stock or broth
3/4 cup coconut cream canned, unsweetened
2 teaspoons fresh lemon juice
Sea salt and black pepper to taste
Minced parsley for garnish