Ukrainian Blueberry Dumplings (Varenyky)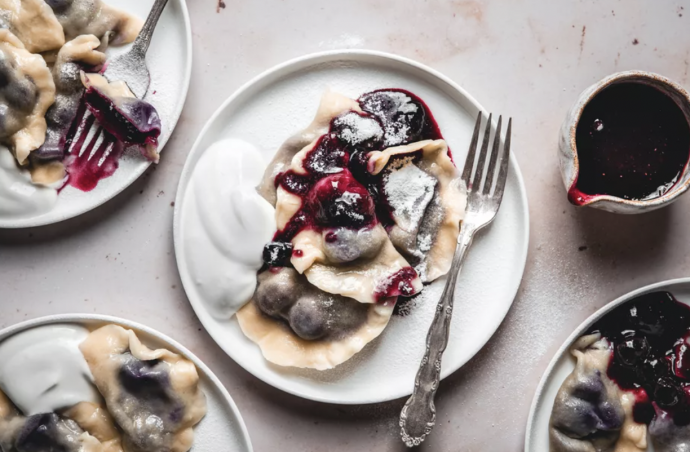 This recipe for Ukrainian dumplings, known as varenyky, is filled with fresh, ripe blueberries. They are similar to Polish pierogi.
Ukrainian filled dumplings that are boiled are known as varenyky. When the dough is made with yeast and the filled dumplings are baked, they are known as pyrohy.
For Ukrainians, a savory curd cheese filling is the national favorite, but others abound. A good varenyky should have a thin, tender dough. Some cooks claim cool water is the trick. But, really, it's all about years of practice.
The filling used here is blueberry, but any of the fillings for naleśniki, pierogi, and uszka can be used.
Ingredients:
For the Dough:
2 cups all-purpose flour
1 teaspoon salt
1 large egg, or 2 large egg yolks, at room temperature
1/2 cup water, or more, as necessary
For the Blueberry Filling:
2 cups blueberries, washed and stemmed
1/2 cup sugar
1 to 2 tablespoons brandy or kirsch, or lemon juice
1/2 teaspoon cinnamon
For the Sauce and Serving:
Melted butter, for the cooked varenyky
1 tablespoon cornstarch
Confectioners' sugar, for serving
Sour cream, for serving