Vegan Dessert: Baked Chocolate Cheesecake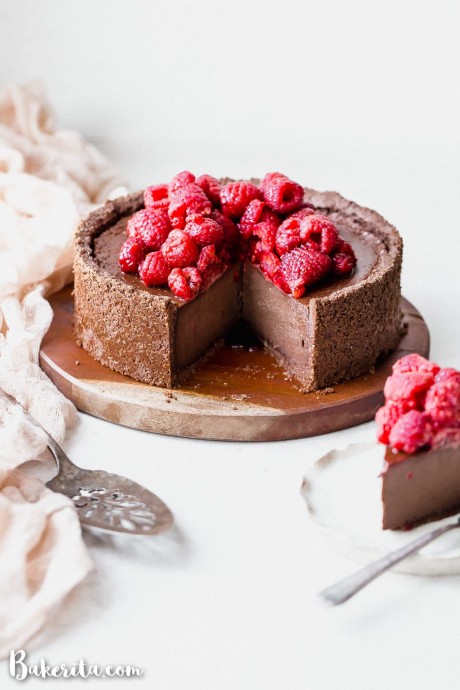 This Baked Vegan Chocolate Cheesecake will make your mouth water! It's super creamy and delicious, with a rich chocolate flavor and a tasty gluten-free chocolate crust.
When you bake a vegan cheesecake, you get the same ultra-creamy texture as a traditional cheesecake, with a little bit of tang and a crunchy crust.
The crust is deliciously chocolatey and crunchy. It's made with pecans (or any nut you prefer), almond flour, coconut sugar, coconut oil, cacao powder, and sea salt. It's pressed into the pan and baked until crunchy before we add the filling!
While the crust bakes, let's make the filling! We make the filling with soaked raw cashews, coconut yogurt, and canned coconut milk. To sweeten, we add maple syrup. For that bold chocolatey flavor, we add bittersweet chocolate and cacao powder. Lemon juice, arrowroot starch, vanilla extract, and sea salt are also added for extra flavor and better texture.
The resulting baked vegan chocolate cheesecake is creamy, chocolatey, rich, a little tangy, and absolutely delicious! It's perfect for birthdays, Valentine's Day, the holiday season…or anytime you're craving a good cheesecake.
Ingredients:
1 cup raw pecans
1½ cups (148g) blanched almond flour
⅓ cup coconut sugar
3 tablespoons cacao powder
½ teaspoon sea salt
⅓ cup coconut oil, melted
1½ cups raw cashews, soaked in water for 4 hours to soften, drain and rinse before using
1 cup vegan coconut yogurt
¾ cup canned coconut milk
⅓ cup (111g) pure maple syrup
¼ cup bittersweet chocolate, about 80%, melted
2 tablespoons fresh lemon juice, from the juice of one large lemon
3 tablespoons arrowroot starch or tapioca starch
3 tablespoons cacao powder
1 teaspoon vanilla extract
½ teaspoon sea salt
1 cup fresh raspberries
2 tablespoons coconut sugar