Baked Brats in Caramelized Sauerkraut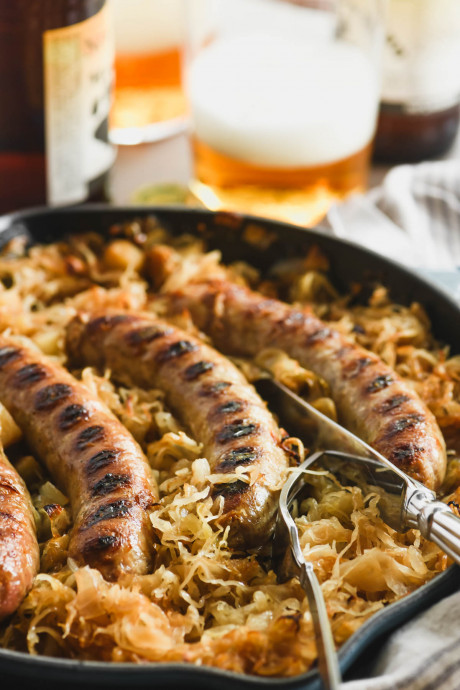 Baked brats in caramelized sauerkraut is a wonderfully easy sausage casserole that feeds the family on a cozy weeknight. It'll satisfy an Octoberfest or game day crowd, too ~ you decide. It's a classic German recipe that everybody adores!
Rarely does a recipe tick so many boxes: it's quick, easy, unusual, and utterly scrumptious. And it gets bonus points for being so on point for fall. We loved it so much I've already got plans to make it again for company.
If you love sauerkraut I probably don't need to convince you to try this (the caramelized part? A-mazing), but even if you're on the fence you're going to want to make this ~ it's sauerkraut like you've never had it before.
why this dish works
THE EASE for one thing. After browning off of the brats, and a quick sauté of the onions and apples, it heads straight to the oven.
THE FLAVOR! The savory sausage juices seep down into the kraut as they bake, and the sweet sugar, apples, and cider balance out the cabbage, caraway seeds, and mustard. The sauerkraut slowly caramelizes as it bakes, helped along by the brown sugar.
THE VERSATILITY It's a sit down dinner as is, just add a side of roasted potatoes and a green veg or salad. It can also be a make your own brat bar when you double or triple the recipe and set it out for people to assemble with buns and mustard.
Ingredients:
4 raw bratwurst sausages
olive oil
1/2 yellow onion, chopped
1/2 green apple, peeled and chopped
2 Tbsp brown sugar
1/2 tsp caraway seeds
1/2 tsp mustard seeds
3 cups lightly drained sauerkraut
1 cup apple cider