The Oliver's Salad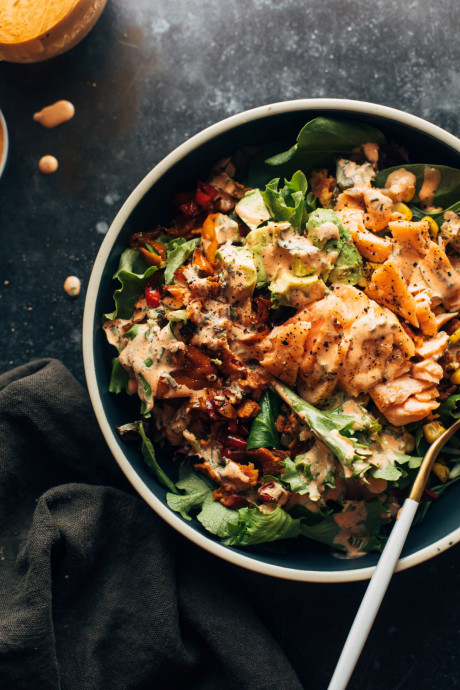 Call it a salad, call it a bowl, call it an entire main course on lettuce but here we are, and we are just very heart eyes about it.
We're bringing you the most beautiful salad inspired by the restaurant Oliver's in Minnesota. Tender salmon, savory peppers and garlic confit, buttery chunks of avocado, fire-roasted corn, bacon bits, and a river of homemade smoky ranch dressing.
Light tender flaky salmon, silky and savory peppers and garlic confit, big buttery chunks of avocado and roasty corn, salty bacon, and rivers of homemade smoky ranch. Have we said too much? Are you already making it?
Have you ever had pepper confit? There are many delicious elements to this salad, but this pile of goodness is a real stunner. You just sort of slow simmer the sweet pepper rings and eventually the thin slices of garlic in olive oil until they are soft and buttery and caramelized. Then you store that mixture in your fridge and pile it on just about everything, namely, this salad.
Ingredients:
The Smoked Ranch
1/2 cup mayo
1/2 cup full-fat Greek yogurt or sour cream
1/2 cup milk or buttermilk
1 teaspoon white vinegar or lemon juice (more to taste)
2 teaspoons freeze-dried dill
2 teaspoons freeze-dried chives
1–2 teaspoons smoked paprika
1/2 teaspoon onion powder
1/2 teaspoon garlic powder
1/2 teaspoon salt
black pepper to taste
The Pepper Confit
3 tablespoons olive oil
1 pound mini sweet peppers, sliced into rings
3 cloves garlic, sliced into thin pieces
1 tablespoon red wine vinegar
salt to taste
The You-Picks
spinach or salad greens (about 2 cups per serving)
salmon or chicken (about 3-4 ounces per serving)
avocado (about half of one avocado per serving)
bacon, cooked and crumbled
fire-roasted corn
sunflower seeds