The Yummiest Pumpkin Brownies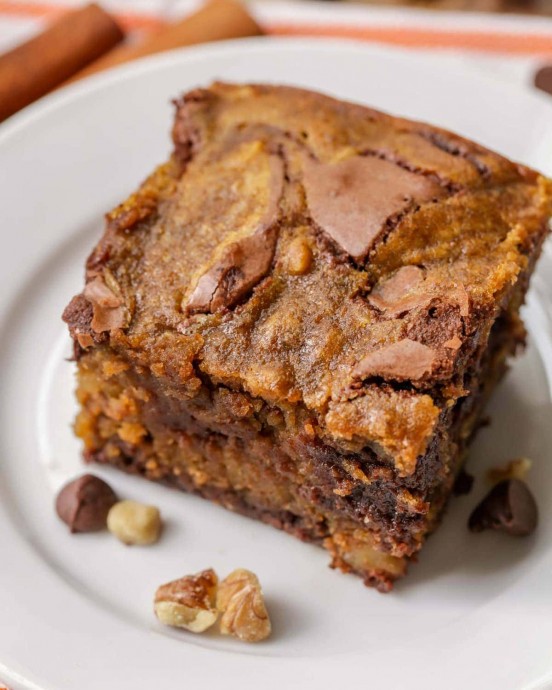 Pumpkin pie, pumpkin cookies, and now pumpkin brownies! They're thick, chewy, and swirled with all the best pumpkin flavors. You'll crave these brownies all fall long! They're made from scratch and are super fun to make. That's what makes these brownies so beautiful. I also love the different textures in these brownies- walnuts, chocolate chips, pumpkin puree. It's all so delicious.
I can think of about 100 reasons to make these brownies. But you really don't need a reason or an excuse. Just make them because they are the perfect combination of chocolate and pumpkin.
Just in case you need some ideas- these are perfect for bringing to fall festivals with your neighborhood, Halloween class parties, an after-school treat, or wrap them up to give to a friend that needs a pumpkin pick-me-up. Or just eat them in peace by yourself hiding from your kids in the pantry (ha-ha).
The yummiest pumpkin brownies you will ever taste! Pumpkin, chocolate, and spices unite to make one pan of deliciousness that will sure to satisfy anyone's pumpkin addiction.
Ingredients:
3/4 cup all-purpose flour
1/2 tsp baking powder
1/2 tsp salt
3/4 cup butter melted
1 1/2 cups white sugar
2 tsp vanilla extract
3 eggs
1/4 cup cocoa powder
1/2 cup semi sweet chocolate chips
1/2 cup pumpkin puree
1/2 cup chopped walnuts
3/4 tsp ground cinnamon
1/2 tsp ground cloves
1/2 tsp ground nutmeg