Bûche De Noël (Yule Log)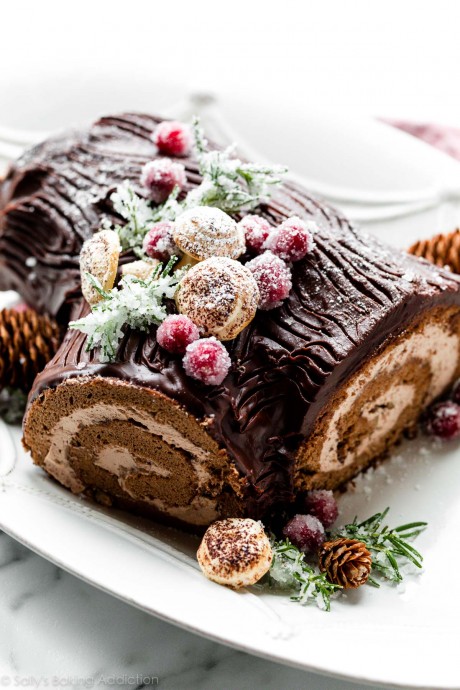 A lovely Yule Log, also known as a Bûche De Noël is a traditional French cake. This recipe starts with a cocoa flavored sponge cake that we'll fill with cocoa hazelnut whipped cream. We'll top it with chocolate ganache and a variety of fun optional garnishes including mushroom shaped meringues plus sugared cranberries and rosemary for a shimmery finishing touch. It's show-stopping and elaborate, yet completely doable in your home kitchen!
Underneath all this festive decor, we have a soft and airy sponge cake. Bûche De Noël includes a light cocoa cake, cocoa hazelnut whipped cream spiked with Frangelico (can definitely skip the booze if you want), and is topped with smooth chocolate ganache. Since ganache is incredibly rich, the other elements have lighter cocoa flavors. In fact, the cake tastes like a mug of hot cocoa. This cake is a fun project to do by yourself or with your family.
Ingredients
Sugared Cranberries & Rosemary
1 cup (120g) fresh cranberries*
4–5 rosemary sprigs (optional)
2 cups (400g) granulated sugar, divided
1 cup (240ml) water
Cake
1 and 1/3 cups (160g) cake flour
2 Tablespoons (11g) unsweetened natural or dutch-process cocoa powder
1 teaspoon baking powder
1/2 teaspoon salt
6 large eggs, separated and at room temperature
1 cup (200g) granulated sugar, divided
2 Tablespoons (30ml) vegetable oil, canola oil, or melted coconut oil
1 and 1/2 teaspoons pure vanilla extract
3 Tablespoons (15g) unsweetened natural or dutch-process cocoa powder
Meringue Mushrooms
1 large egg white, at room temperature
less than 1/8 teaspoon cream of tartar (about 1/16 teaspoon)
pinch salt
2 Tablespoons (25g) granulated sugar
1/2 teaspoon unsweetened natural or dutch-process cocoa powder (optional for dusting)
1 ounces (28g) semi-sweet chocolate, finely chopped
Cocoa Hazelnut Whipped Cream
1 cup (240ml) cold heavy cream
2 Tablespoons (30ml) Frangelico liqueur
2 Tablespoons (15g) confectioners' sugar
1 Tablespoon (5g) unsweetened natural or dutch-process cocoa powder
1/2 cup (60g) finely chopped hazelnuts (optional)
Ganache Topping
6 ounces (85g) semi-sweet chocolate, finely chopped
3/4 cup (180ml) heavy cream