Grilled Tri Tip Sandwich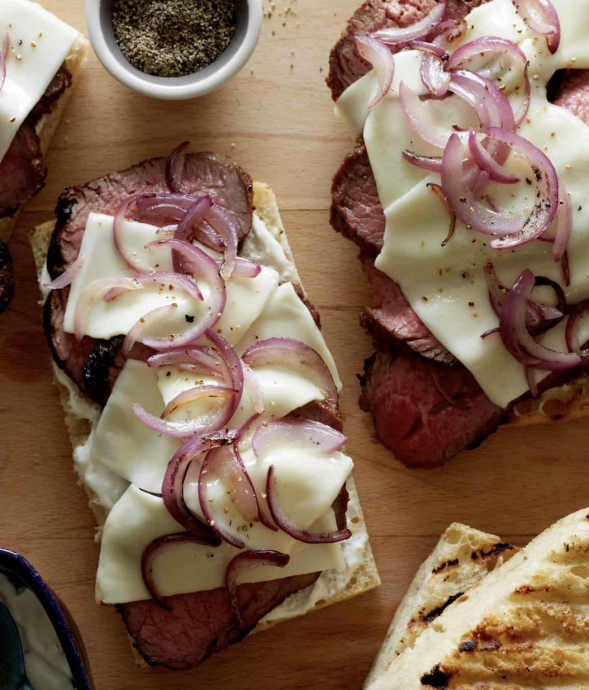 Our recipe for this Tri Tip Sandwich is so easy and crazy delicious! Filled with juicy and flavorful slices of grilled tri tip, melted cheese, thinly sliced red onions, and sandwiched between two thick slices of ciabatta, it's one of our favorite sandwiches!
Tri tip is a full flavor (and lower in fat) cut of beef at the very bottom of the sirloin. The name comes from its triangle shape and its bottom "tip" location of the sirloin.
A tri tip sandwich usually consists of sliced tri tip, caramelized onions and creamy horseradish sauce. For our version, we like to use a grilled or toasted bread with a soft interior and crusty exterior (such as ciabatta or hoagie roll). We also like adding slices of melty cheese to our sandwiches.
Ingredients:
dry rub
2 ½ teaspoons salt
2 ½ teaspoons black pepper
1 tablespoon garlic powder
2 ½ teaspoons smoked paprika
2 teaspoons onion powder
1 teaspoon minced rosemary
tri-tip
One 2.5 pound tri-tip roast
1 tablespoon extra virgin olive oil
basting marinade
⅓ cup red wine vinegar
⅓ cup extra virgin olive oil
2 tablespoons whole grain mustard
assembly
4 ciabatta rolls, grilled/toasted or roll of choice
1 cup creamy horseradish sauce
1 cup sliced and lightly caramelized red onions
8 slices cheese