Sesame Garlic Grilled Sweet Potato Fries with Yogurt Curry Dip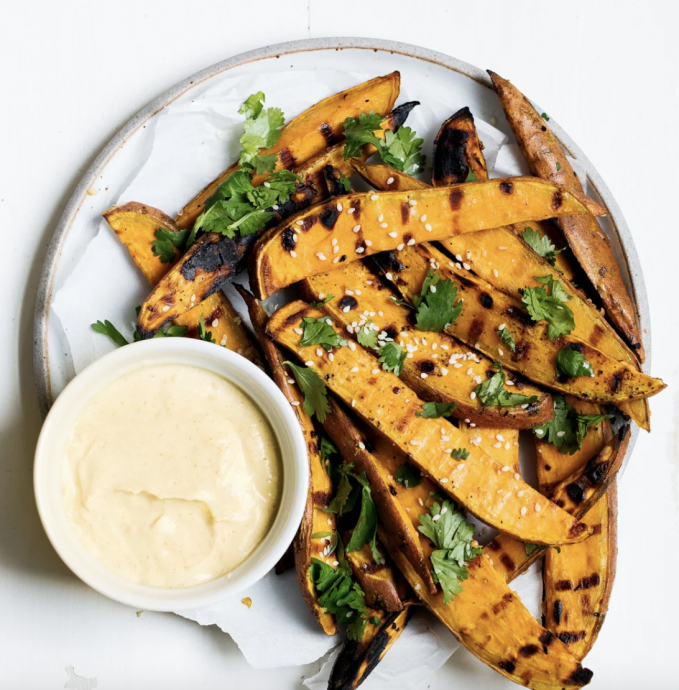 Delicious, easy grilled sweet potato fries with a hint of garlic and sesame flavor. These healthy grilled sweet potato fries come together in just 20 minutes for the perfect summertime appetizer or side dish. Serve with an irresistible yogurt curry dip!
These AMAZING crispy sweet potato fries are my summer side dish obsession because they are SO easy to make on the grill since they only take about 10 minutes tops. For a fun new savory dip, I'm sharing my yogurt curry dip made with just a few ingredients you probably have in your fridge. It's a fun way to change things up.
Ingredients:
For the sweet potato fries:
2 large sweet potatoes (or 3 medium), cut into about 1 inch wide wedges
1 ½ tablespoons toasted sesame oil (regular sesame oil or olive oil also works)
3/4 teaspoon garlic powder
½ teaspoon salt
Freshly ground black pepper
For the Yogurt Curry Dip:
1/3 cup nonfat plain Greek yogurt
1 teaspoon curry powder
2 teaspoons fresh lime or orange juice
1 teaspoon pure maple syrup
⅛ teaspoon salt
1 tablespoon water to thin dip, if necessary
Optional: pinch of cayenne pepper
To garnish:
Fresh cilantro
Sesame seeds