Vegetarian/Vegan/Gluten-Free Quinoa Salad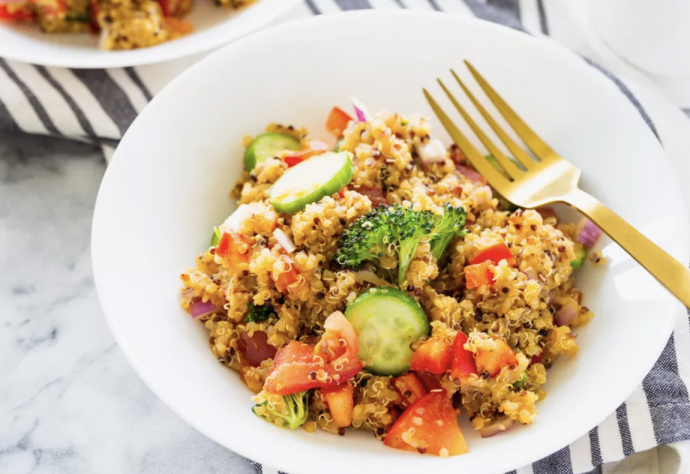 This quinoa salad made with cucumber, bell peppers, broccoli, and tomatoes gets a hint of brightness from a lemon-garlic vinaigrette. The rest of the good news? It's delicious, vegetarian, vegan, gluten-free, and takes about 30 minutes to prepare.
There's a lot to love about quinoa—it has about 11 grams of protein per cup cooked and has iron, magnesium, and fiber.1 It can be prepared faster than most other grains which add up to a win-win for busy lifestyles.
This recipe lends itself to experimentation so try adding or swapping out different veggies such as zucchini, corn, kale, or spinach greens; there's really no wrong way to make a healthy quinoa salad. This recipe is perfect for those nights when you don't want to fuss too much over dinner.
Ingredients
For the Quinoa:
4 cups vegetable broth, or water
1 1/2 cups raw whole-grain quinoa
Salt, to taste, optional
For the Vinaigrette:
1/3 cup freshly squeezed lemon juice
1/4 cup olive oil
2 cloves garlic, minced
Salt, to taste, optional
Freshly ground black pepper, to taste, optional
For the Vegetables:
1 medium cucumber, sliced
1 red or yellow bell pepper, diced
1/2 small red onion, diced
1/2 cup broccoli florets, lightly steamed
2 medium tomatoes, chopped