The Best Easy Overnight Cinnamon Rolls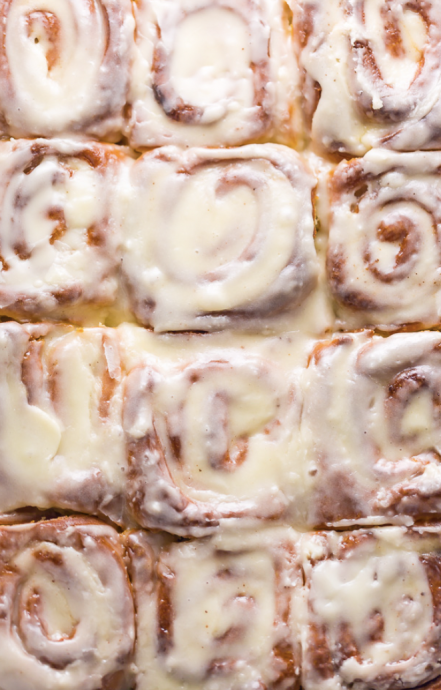 Say hello to the BEST Easy Overnight Cinnamon Rolls! We make these for decadent cinnamon rolls every Christmas morning and they basically fly out of the baking tray. So fluffy and delicious you'll want to make them every weekend!
While an electric stand mixer fitted with a dough hook is very useful for this recipe, it can be made without one. You'll simply knead the dough by hand (step 4) instead. This will take about 10 minutes.
For best results, use whole milk in this recipe.
Be sure your butter and egg have come to room temperature!
While you can certainly slice the rolls with a knife, I recommend trying the floss method. It puts less pressure on the rolls which helps the filling stay put. Just be sure to use unscented floss, otherwise your cinnamon rolls could have a minty or cinnamon aftertaste which is kind of gross.
Ingredients
For the Cinnamon Rolls:
1 cup whole milk (whole milk means full-fat)
4 tablespoons unsalted butter, very soft
3 and 1/3 cups all-purpose flour, divided
(1) 0.25 oz package active dry yeast
3 tablespoons granulated sugar
1/2 teaspoon salt
1 large egg, at room temperature
For the Filling:
1 cup light brown sugar
1/2 cup granulated sugar
1 tablespoon ground cinnamon
1/4 teaspoon ground cloves
3/4 cup unsalted butter, melted
For the Glaze:
3 and 1/2 cups confectioners' sugar
1/3 cup heavy cream
1/4 teaspoon salt