Monte Cristo Sandwich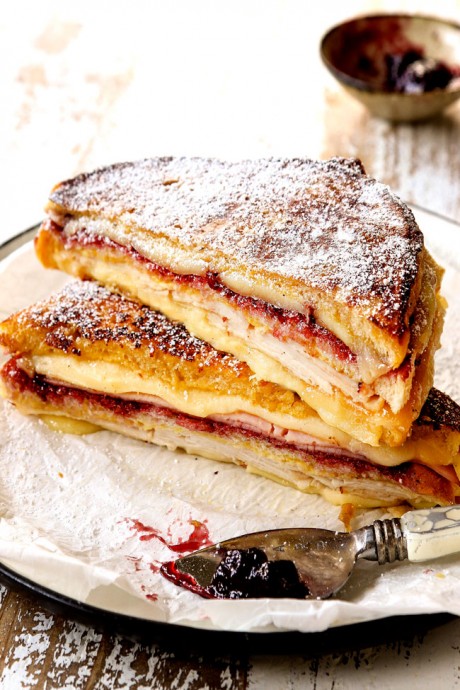 Monte Cristo is a spectacular mash up of the ultimate grilled cheese sandwich + buttery french toast in less than 30 minutes!
These Monte Cristo sandwiches rival Disneyland's famous version (or better!), are quick and easy to make, a fabulous way to use up leftover ham, are make ahead friendly and the most spectacular sweet and savory combo you will ever sink your teeth into. This mouthwatering Monte Cristo recipe is made with layers of ham, turkey, and Gruyere cheese on sourdough or challah, dunked in a light batter, pan fried until golden, then served with powdered sugar, syrup and/or raspberry jam for dipping.
The Monte Cristo Sandwich is an American variation based off of the French Croque Monsieur sandwiches. Unlike the traditional French Croque Monsieur, Monte Cristo sandwiches also typically include turkey and mustard. The coveted buttery, golden crispy crust giving way to the velvety inside combined with gooey cheese, is sweet, salty, cheesy, buttery, perfection. Monte Cristos are ideal for breakfast, brunch and lunch, and make a fun dinner as well! Most importantly, they are more heavenly than you can dream of. You can serve them with one or all of the following: Powdered sugar: Amping up that sweet and savory flavor is the way to go here. Dust your sandwich with powdered sugar and thank me later! Fruit: Top your Monte Cristo with fresh berries such as strawberries, raspberries, blackberries and/or blueberries. Raspberry jam: Is already included in the sandwich so it's not necessary, but for those who like it extra fruity. Maple syrup: Might sound odd, but I was served maple syrup with my Monte Cristo sandwich at a café and it was fabulous. Maple and ham are divine together and, of course, syrup and French toast is the only way to go!
Ingredients:
Sandwiches
6 slices sourdough, brioche or challah
4 tablespoons unsalted butter softened
4 tablespoons mayonnaise
4 tablespoons Dijon mustard
raspberry jam
8 thin slices Gruyere cheese more or less as needed to cover bread
4 slices ham, thinly sliced or 2 thicker sliced leftover ham
8 slices turkey, thinly sliced
Butter for pan frying
Vegetable oil for pan frying
Batter
2 large eggs
2 tablespoon milk
1 tablespoon sugar
1/4 teaspoon vanilla extract
1/4 teaspoon ground cinnamon
Pinch of salt
Pinch of ground nutmeg
For serving
Powdered sugar
raspberry jam
maple syrup