Chicken Florentine Meatballs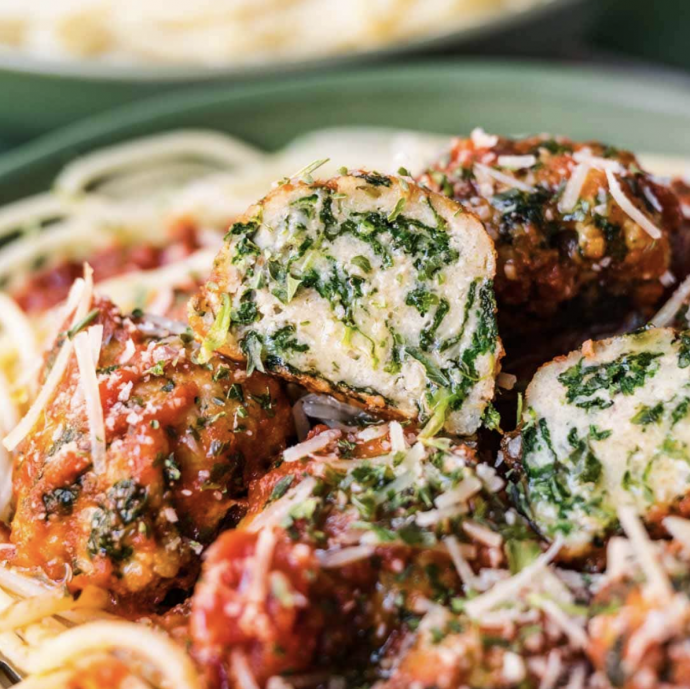 Chicken Florentine Meatballs are the perfect homemade, flavorful meatballs with spinach, parmesan cheese, and garlic in marinara sauce.
Chicken Florentine Meatballs are a great way to add some extra amazing flavor to your spaghetti dinner. Instead of just simple meatballs, you get the delicious addition of spinach, chicken, parmesan, and garlic all combined. Each amazing meatball is tender, juicy, and packed with a unique and delicious taste. Plus, the spinach brings some extra healthy veggies to the recipe.
If you have any leftovers, you could also serve the meatballs as the protein in an Italian Chicken Soup. Additionally, enjoy them in a hoagie roll for an easy meatball sub. Top off the sub with your choice of cheese and sauce, and then toast it under the broiler for an excellent hot meal. There are so many ways you can use the meatballs to add to your favorite recipes.
Ingredients:
10 ounces frozen chopped spinach , thawed
2 large eggs
1/2 cup dry bread crumbs
1/4 cup grated Parmesan cheese
1 clove garlic , minced
1/4 teaspoon kosher salt
1/8 teaspoon coarse ground black pepper
1 pound lean ground chicken
3 cups marinara sauce