Tamale Pie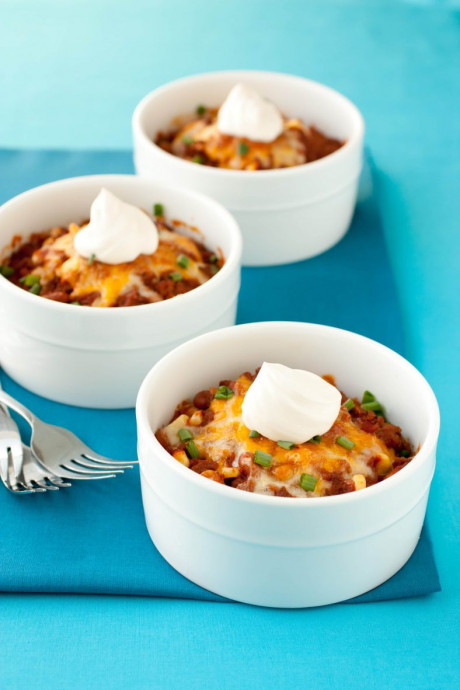 If you are a tamale lover and a chili lover then this is a recipe you won't want to miss out on. I myself completely love the both of them, so when I discovered they could be combined into one I was thrilled. The traditional tamale pie contains corn meal or a cornbread mix, but a traditional tamale dough is made from masa or masa harina (which is a type of corn flour that is often treated with lime juice and has a finer grind than cornmeal). I love the flavor and texture of a tamale dough once it has been cooked. I still dream about the batch of tamales that the sweet Mexican women made for me when I was traveling in Mexico several years ago.
The typical tamale pie usually either consists of ground beef or beans (such as black and pinto). I decided to combine the both of them because when I had it before will all meat, it actually seemed like too much meat, kind of like a chili without beans. One more difference that is not so typical is that I baked the tamale dough on bottom, so it's more of a crust than a topping like most.
This tamale pie is full of exciting Southwestern flavors and it's truly delicious. One great thing about this meal is it's convenience. It is just that, a meal all in one and it contains ingredients that I nearly always have on hand. It may look like a lot of ingredients but a lot of it is spices that you likely have in your cupboard. This family friendly meal is a breeze to put together and may just become a new favorite. If your a fan, don't forget to top it with hot sauce. I can't go without the stuff. Enjoy!
Ingredients:
1 Tbsp olive oil
1 cup chopped yellow onion
2 cloves garlic , finely minced
1 1/2 lbs lean ground beef
1 (29 oz) can tomato puree
1 (15 oz) can pinto beans, drained and rinsed
2 cups frozen sweet white corn (no thawing necessary)
1 (4 oz) can diced green chilies
1 1/2 Tbsp chili powder
2 tsp paprika
1 tsp ground cumin
1/2 tsp ground coriander
Salt and freshly ground black pepper , to taste
4 oz shredded monterey jack or cheddar cheese (I use a combo of both)
chopped green onions or cilantro , and sour cream, for serving
Tamale Crust
2 cups masa harina
1/2 cup salted butter , cold and diced into pieces
1 tsp baking powder
1/2 tsp salt
1 1/2 cups hot water