Brazilian Shrimp Soup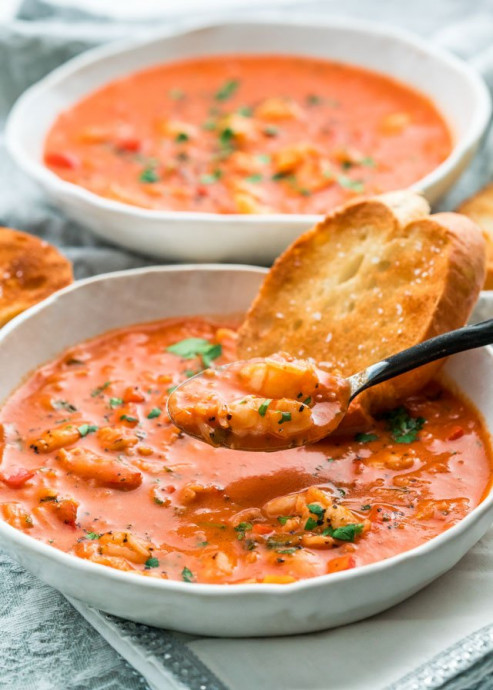 This Brazilian Shrimp Soup is an incredibly delicious creamy tomato soup that features shrimp, coconut milk, and bright lemon juice. Perfect for any occasion! There's just something about the flavors you can develop in all the different varieties that are out there. Sometimes I feel that tomato soup, a western classic, is missing a little something. And recently I've learned that that something is shrimp! If you've never sampled this Brazilian classic then I am about to be your favorite person this side of the Northern Hemisphere.
Also known as Moqueca De Camaro, this seafood soup was created in Brazil. Since there's so many coastal town and villages in Brazil each has their own signature twist on this dish. It uses a varieties of protein, but today I decided to stick with shrimp as it's the perfect intro protein for this delectable dish. With bright tomato and lemon, plump and juicy shrimp, and creamy coconut milk, this soup will warm you from the inside out. Heavy cream can be substituted for the coconut milk if you'd rather something a little creamier but keep in mind that coconut milk is more traditional in Brazilian Shrimp Soup.
Ingredients:
2 tbsp olive oil
1 medium onion chopped
1 bell pepper chopped (I used a red one)
4 cloves garlic minced
1/2 cup rice long-grain
1/4 tsp red pepper flakes
1 tsp salt
28 oz crushed tomatoes (1 large can)
4 cups water
1 cup coconut milk unsweetened
1 lb medium shrimp shelled and cut in 1 inch pieces
1/4 tsp black pepper ground
3 tbsp lemon juice from 1 lemon
1/2 cup parsley fresh, chopped, for garnish