Crispy Teriyaki Tofu Recipe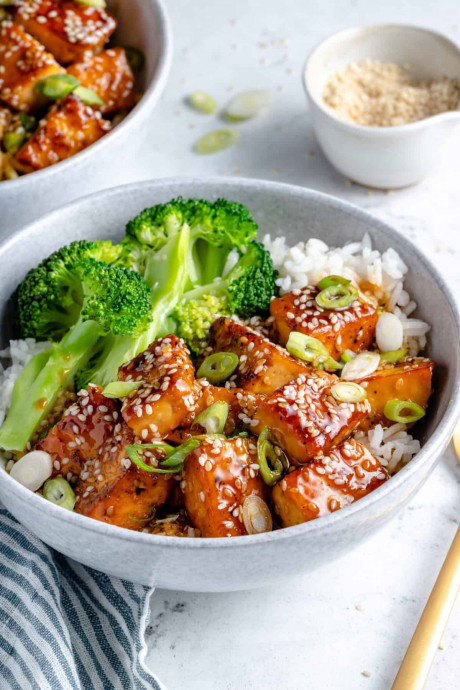 This Teriyaki Tofu is a quick, incredibly flavorful, make-ahead dish! It's JUST as good as takeout, and perfect for weeknight dinners. Enjoy this sweet and savory tofu recipe!
There is endless depth to this recipe. And, once cooked, the tofu's texture becomes the perfect amount of crispy – all in all, trying this classic Asian recipe is a must! My favorite part about this dish is the flavour profile from the Teriyaki Tofu marinade. I'm talking soy sauce or liquid aminos, crushed red peppers, raw unrefined sugar, ginger, and rice wine vinegar. All the good stuff.
Here are a couple more reasons to love this tasty tofu recipe:
It's Quick: Teriyaki tofu is easily marinated from up to two days before. So, all you need to do is heat it all up in a pot until cooked through, after you take it straight out of the fridge. Tofu is quick, easy, and perfect for a weeknight dinner.
It's Healthy: Tofu is great for adding protein to a dish, and it's also pretty affordable. On top of that, it is packed with all nine of the essential amino acids!
It's Make-Ahead: Making this dish ahead of time is a great way to save time in the evenings during the week! Add the teriyaki to the tofu mix, and marinate it for at least 20 minutes, and up to 2 days. You can do this meal prep on a Sunday night, and then on Monday you can come home to a delicious, quick home-cooked meal.
Ingredients:
For the Crispy Tofu
1 16- ounce block extra firm tofu pressed for at least 30 minutes and chopped or triangle
2 teaspoons light soy sauce or liquid aminos
½ teaspoon garlic powder
pinch sea salt and black pepper about ¼ teaspoon each
2 teaspoons cornstarch
2 teaspoons sesame or regular oil
Teriyaki Sauce Ingredients
¼ cup light soy sauce or liquid aminos
¼ cup raw unrefined brown sugar or coconut sugar
1 teaspoon cornstarch + 1 teaspoon water stirred together
½ teaspoon ground ginger
2 teaspoons sesame seeds
1 tablespoon rice wine vinegar
¼ cup water
chopped scallion to garnish