Glazed Old Fashioned Buttermilk Donut Cake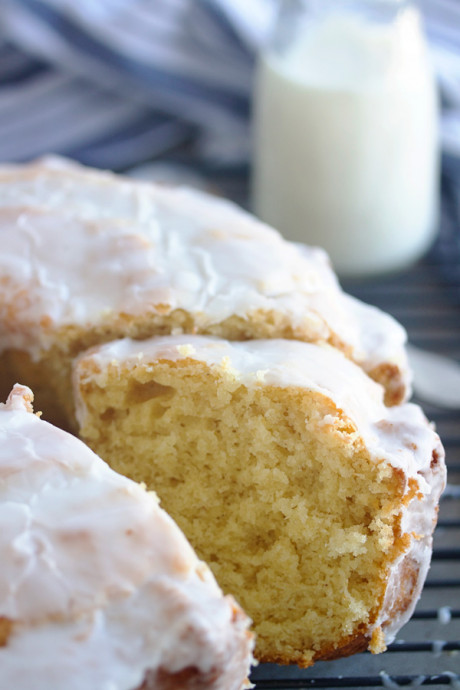 If you love old-fashioned donuts, then you're going to LOVE this Glazed Old Fashioned Buttermilk Donut Cake. It's tender, perfectly moist, topped with a simple, delicious glaze and tastes amazing! This Glazed Old Fashioned Buttermilk Donut Cake is basically an oversized donut that is unforgettable and you're going to love it.
It's a moist, tender pound cake that is baked in a Bundt pan and then served upside down, revealing the beautiful cracked and craggy appearance of an old-fashioned donut.
Who doesn't love old-fashioned buttermilk donuts? The crackly, glazed edges and the moist, tender inside. They are so, so good. And what's even better, is having one in cake size form. Nutmeg and vanilla extract add that classic cake donut flavor, while buttermilk provides the slightest tanginess to balance out the sweetness. Then the simple powdered sugar glaze creates a shiny coating and makes it look like the real deal. Be sure to brush the glaze over the entire cooled cake, including the sides and be generous!
This cake is perfect for a weekend breakfast or brunch. It's also the perfect cake to bring to any party, family gathering, and any occasion.
Ingredients:
2 cups all purpose flour
1 and 1/2 cups oat flour
1 and 1/2 cups sugar
1 teaspoon freshly grated nutmeg
1 1/2 teaspoons baking powder
1/2 teaspoon baking soda
1 teaspoon salt
1 3/4 cups buttermilk
3/4 cup vegetable or canola oil
3 large eggs, room temperature
2 teaspoons vanilla extract
GLAZE:
2 1/4 cups powdered sugar
1/2 teaspoon vanilla
4 to 6 tablespoons hot water