Gluten-Free Cheese Ravioli with Kale Pesto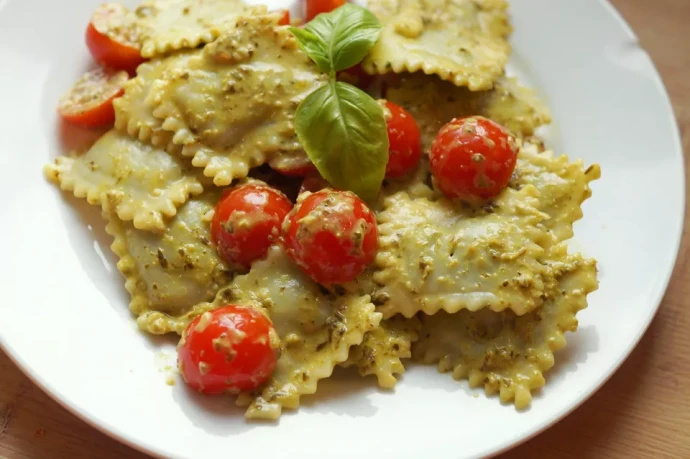 For those busy weeknights where you crave something hearty, filling, and comforting but lack time (and let's be honest...energy), this quick and easy gluten-free ravioli dish is for you.
Three Bridges Gluten-Free Cheese Ravioli is so tender, so delicious, you will never guess it's gluten-free. All it takes to prepare the ravioli is a few minutes in a pot of gently boiling water followed by another minute or two in a pan with your choice of sauce. This gluten-free ravioli is an easy base for a variety of comfort meals.
This particular ravioli dish features gluten-free cheese ravioli gently tossed in Kale Pesto along with shallots and grape tomatoes. You can either make your kale pesto from scratch in a food processor, or pick up a container of Three Bridges Kale Pesto for an even easier and quicker weeknight meal.
For protein, I paired this dish with simple grilled chicken, but you can add grilled or sautéed shrimp instead or skip the meat entirely for a Meatless Monday meal.
Ingredients:
9oz (1 container) Three Bridges Gluten-Free Cheese Ravioli
2 tsp extra virgin olive oil
2 tbsp shallot (finely chopped)
1 cup grape tomatoes (washed and halved)
7oz (1 container) Three Bridges Kale Pesto (or use a homemade recipe)
2 boneless skinless chicken breasts (grilled)
Optional: parmesan cheese (for garnish)
Dash salt (or to taste)