Quinoa Chickpea Salad With Blackberries & Candied Pepitas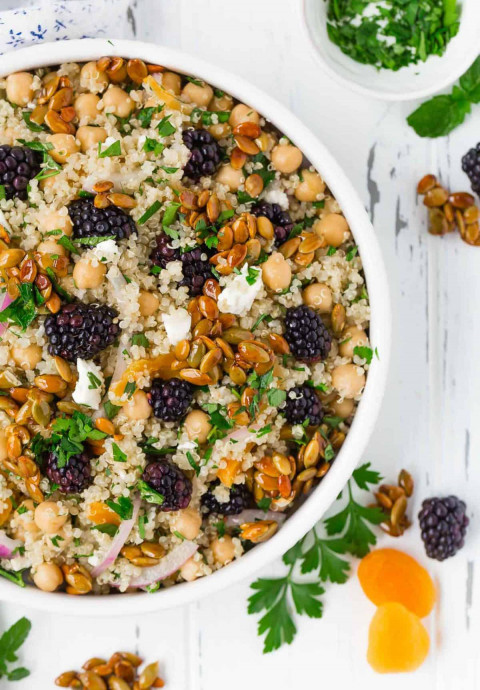 You'll discover a myriad of exciting flavors and textures in this quinoa chickpea salad with candied pepitas, blackberries, apricots, and feta cheese. There's nothing boring about this quinoa salad! It covers all the bases: lots of protein in the quinoa, chickpeas, and feta; plenty of crunch in the red onions and candied pepitas; juicy purple blackberries and chewy sweet dried apricots; bright flavors of fresh mint and parsley; and a standout homemade vinaigrette. Every bite is so satisfying!
This salad is a feast for the eyes and tummy, and nutritionally, it's a powerhouse. Every ingredient has attributes that contribute to a healthy diet. You can and will literally feel really good about eating this quinoa chickpea salad. Each one cup serving has only 257 calories. Your body will thank you, and so will your tastebuds!
Tip: make at least a double batch or more of the pepitas because they're so "snackably" tasty! (I know, I just made that word up!) Just saying, otherwise, you may end up with none for your salad.
Ingredients:
QUINOA
1 cup quinoa, rinsed and drained (or 3 cups cooked quinoa)
2 cups water
1 teaspoon kosher salt
PEPITAS
½ cup raw pepitas (shelled pumpkin seeds)
1 tablespoon honey
1 teaspoon olive oil
Dash cayenne pepper
SALAD
1 can (15 oz.) chickpeas, rinsed and drained (1½ cups)
1 cup thinly sliced red onion, about ½ onion (see note)
½ cup thinly sliced dried apricots
½ cup chopped fresh parsley
2 tablespoons chopped fresh mint leaves
½ cup crumbled feta cheese (about 2 ½ oz)
6 oz. container blackberries
DRESSING
3 tablespoons white wine vinegar
2 tablespoons olive oil
1 tablespoon honey
1 teaspoon Dijon mustard
½ teaspoon kosher salt
¼ teaspoon coarse ground black pepper