Mango Sorbet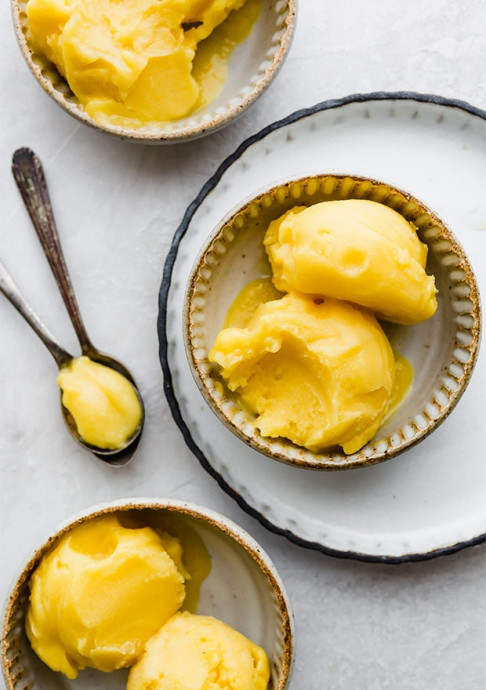 This Mango Sorbet is perfectly soft and creamy — a great summer treat to keep you cool. Using a blender and ice cream machine, we'll get the perfect sorbet consistency.
This creamy mango sorbet — and my raspberry sorbet recipe — is my favorite summer treat to make. The fruity sorbet tastes light and fresh, making it the perfect sweet, cool treat for those hot summer days. This mango sorbet uses corn syrup, which probably has a few of you shaking your heads. However, the corn syrup prevents an icy sorbet and prevents the sorbet from fully freezing. When you remove the mango sorbet from the freezer you won't have a puddle in your bowl within 5 minutes. That's the magic of the corn syrup.
Small ice crystals= smooth and creamy sorbet. As you can see there are a lot of food science components that go into the making of this mango sorbet. And the end result is a creamiest and dreamiest recipe you'll ever have!
The sorbet should only churn for about 20 minutes. Even churning it for 30 minutes can result in a loose and crumbly sorbet. Sorbet can be frozen for up to 5-7 days.
Ingredients:
1 cup water
1 teaspoon Sure-Jell for Less or No Sugar Needed Recipes
pinch salt
4 cups frozen mango - 20 ounces. You can use fresh mango, just make sure it weighs 20 oz.
1/2 cup + 2 Tablespoons granulated sugar
1/4 cup light corn syrup