Mango Salad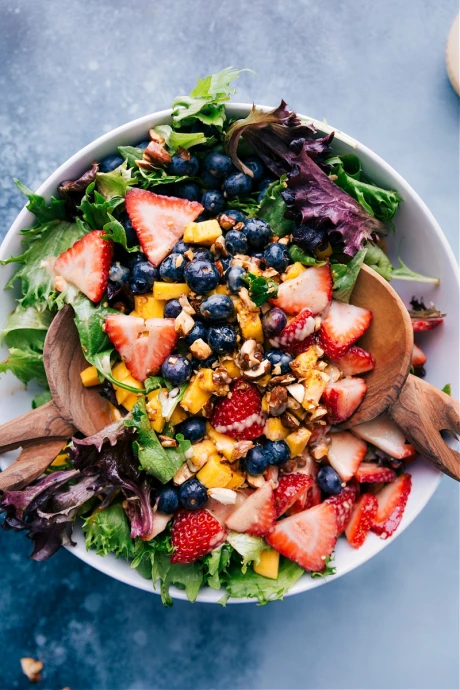 This vibrant, fresh, and lively Mango Salad is loaded with fresh fruit, cinnamon almonds, and dressed with a cinnamon-yogurt dressing. Be prepared for a salad addiction!
So let's chat about this dressing. It's unique, sweet, and completely crave-able! It's also very easy to make with only four ingredients (not including salt and pepper). With so few ingredients, each one really matters, so let's discuss those below: Mango yogurt. Test this dressing with many different yogurts and find your favorite! Ground cinnamon. Admittedly a weird dressing ingredient, but we're obsessed! The cinnamon just works with all the fruit and emphasizes the cinnamon-roasted almonds' flavor in the salad. Honey. This dressing is on the sweet side, so feel free to scale down the honey (or add a bit more if using a less sweet yogurt).
Variation ideas: Add a diced avocado for some creaminess and good-for-you fats. Sprinkle in some cheese. Goat or feta cheese make nice complements to the fruits in this salad. Change up the dressing. If you're unsure of the cinnamon-yogurt dressing, try a poppy seed dressing instead; we love the dressing on this Strawberry Poppy Seed Salad. Swap fruit. Change berries to your personal preference, such as blackberries or red raspberries instead of strawberries and blueberries. Feel free to add in more fruit; we've added a kiwi to this salad too and loved that! Adjust quantities. This salad has a high ratio of fruit to lettuce– which is exactly how we love it. Feel free to scale up or down the amount of fruit you add if you'd like the lettuce to be more central.
Ingredients:
8 cups (5 oz; 145g) spring mix lettuce blend or your favorite salad greens
1 cup (155g) blueberries
1 cup (160g) peeled and diced honey mango (~2 mangoes)
1 cup (140g) thinly sliced or chopped strawberries
1/2 cup (63g) coarsely chopped cinnamon-roasted almonds
Dressing
1/4 cup (61g) mango yogurt
1 tablespoon + 1 teaspoon (32g) honey
2 Mandarin oranges (1/2 teaspoon zest; 2 tablespoons (28g) juice)
1/2 teaspoon ground cinnamon