Grilled Pear and Prosciutto Salad with Burrata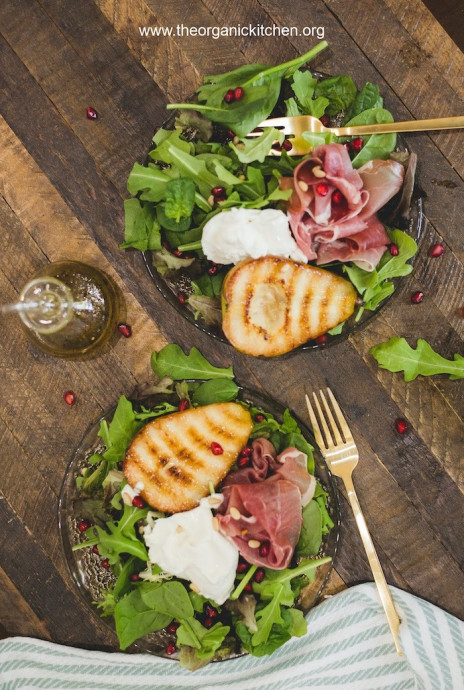 Everything about this Grilled Pear and Prosciutto Salad with Burrata is dreamy….the creamy burrata, the grilled pears, the prosciutto and the smooth white balsamic dressing. It's all pretty fantastic separately, but put it all together in a salad and it's truly something exquisite. This salad is so easy to make! Whisk together the vinaigrette, grill up the pears, plate the lettuce, burrata, and prosciutto, and boom! You have a gourmet salad in minutes. Grilling intensifies the flavor of this already sweet fruit. In the summer we grill them outdoors, in colder weather we grill them indoors on a grill pan. The pears are the only cooking involved in the dish, the rest is assembly only. Our kind of meal! It's a dream is what it is. Burrata is fresh Mozzarella cheese and cream combined and it's heavenly. You'll probably have to buy a minimum of 8oz so don't let it go to waste!
This stunning salad is tossed in a simple white balsamic dressing. It's 'barely there' but makes all the difference by ramping up the flavor of each ingredient. I prefer white balsamic vinegars, but if you prefer, a traditional balsamic vinegar works really well on this salad too. It's totally up you!
Ingredients:
3 cups baby greens
1/4 cup good quality extra virgin olive oil
2 Tablespoons white balsamic (or regular balsamic if desired)
1 Tablespoon honey (if using a traditional balsamic, omit honey)
sea salt and pepper to taste
1 pear cut in half and grilled
6 slices prosciutto
3-4 ounces burrata cheese
Garnish: pomegranate seeds or your choice of berry