Peach Upside Down Cake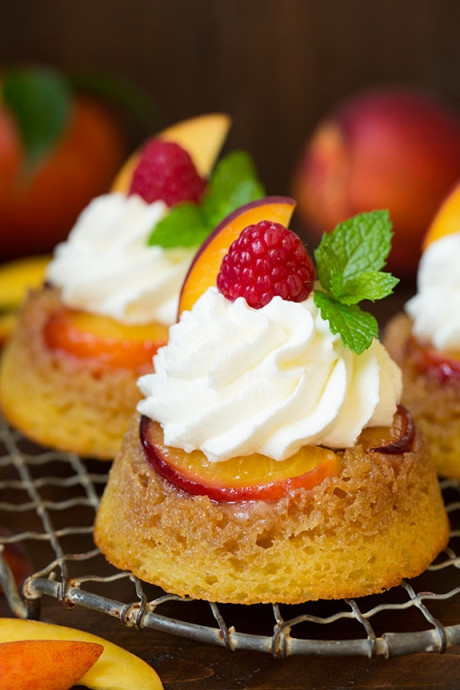 Fresh peach upside down cake! Made with flavorful cornmeal, a soft crumb, sweet peaches and finished with whipped cream and raspberries. Such a tempting summer dessert! I know my 4th of July desserts could be more festive but this year I'm not really color coordinating with the holiday and just going with something fun and different, and of course something with amazing flavor! I made these pineapple upside down cupcakes a few months ago and i know they wouldn't end there.
I love cupcakes and I love when you can convert a traditional cake into an individual cupcake, like these German chocolate cupcakes or these cheesecake cupcakes. People always just love them that much more and serving them up is cleaner and easier. I wanted to stick some sparklers in these for pictures but my husband thought i'd burn the house down, but for company i plan on making them again and sticking some sparklers in them and lighting them up outside. I'm totally festive you guys. Always :). I do love all the fresh fruit flag pizzas too so maybe i'll have to make one of those, and maybe next year I'll actually share a recipe for one of those on time. I just never seemed to get around to it this year.
These are equally as good though and you'll have people swooning over them! Peach upside down cakes need to find a place on your menu ASAP! They are simply heavenly! Think peach cobbler, meets sweet cornbread, meets upside down cake all made into one decadent cupcake. Pretty epic right? They are.
Ingredients:
4 Tbsp (56g) butter, melted
6 Tbsp (74g) slightly packed light-brown sugar
2 medium peaches (10 oz), peeled if desired, cored and each sliced into 12 slices
1/2 cup (71g) all-purpose flour
1/2 cup (76g) cornmeal
1/4 tsp baking soda
1/4 tsp salt
3 Tbsp (42g) butter, melted
1/2 cup (110g) granulated sugar
1 large egg
1/2 tsp vanilla extract
2/3 cup (160ml) buttermilk
Whipped cream or vanilla ice cream, for serving
Raspberries and fresh mint, for garnish (optional)