Crispy Bean Tostadas with Smashed Avocado and Jicama-Cilantro Slaw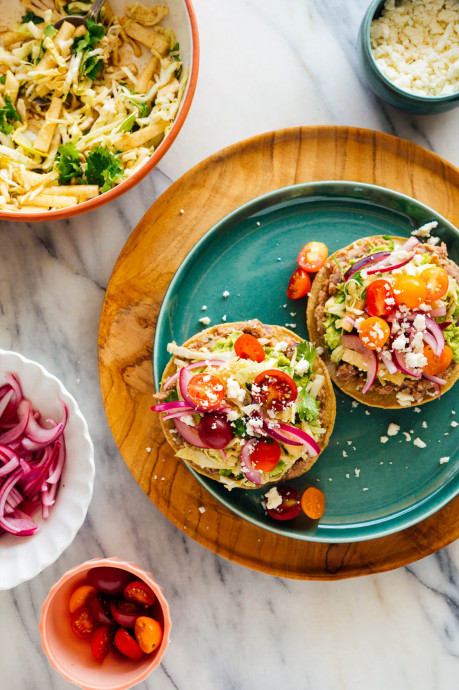 Any tostada fans out there? If you love tacos, you'll love tostadas. Tostadas are basically flat tacos with a crispy tortilla base. They're a little messy to eat—don't order them on a first date—but so fun and satisfying.
This recipe comes from my friend Maria's new book, the Two Peas & Their Pod Cookbook (affiliate link). Her beautiful book offers approachable and fresh, everyday recipes that are perfect for busy families. I knew this recipe would be great because these tostadas share all of the same qualities of a great taco: something hearty (refried beans), something creamy (avocado), something crisp (shredded cabbage and jicama), something tangy (pickled onions), and lots of fresh flavors.
These vegetarian tostadas (which are easily made vegan if you omit the cheese) are layered with several components. Maria's techniques help these tostadas come together quickly.
Crispy Baked Tortillas
Be sure to use 100 percent corn tortillas so your tostadas turn out nice and crispy. I've made the mistake of trying to use a corn and wheat flour blend, and they never crisped up!
Refried Beans
Beans make these tostadas hearty enough to fill you up, offering protein fiber. Maria suggests buying vegetarian refried beans. I'm an over-achiever and decided to make my own with canned beans.
Mashed Avocado
This is basically simplified guacamole, and offers a wonderfully creamy component. You'll mash up some avocados, stir in lime juice and add salt, to taste. Easy!
Ingredients:
½ medium red onion, thinly sliced
Juice of 1 lime
1 tablespoon white vinegar
Pinch of salt
2 cups shredded green cabbage
½ cup fresh cilantro leaves
½ cup ¼-inch-thick slices peeled jicama, or additional shredded cabbage
Juice of 1 lime
½ teaspoon ground cumin
½ teaspoon chili powder
Salt and freshly ground black pepper, to taste
6 corn tortillas
Extra-virgin olive oil or cooking spray
Salt, to taste
2 cans (16 ounces each) vegetarian refried beans, or 1 batch homemade refried beans
3 large ripe avocados, pitted and peeled
Juice of 1 lime
½ cup halved grape tomatoes
½ cup crumbled queso fresco or feta cheese